Electric vertical take-off and landing (eVTOL) aircraft developer Joby Aviation has pushed back the timeline for its vehicle's entry into commercial passenger service to 2025.
JoeBen Bevirt, the California company's chief executive and founder, said on 2 November that there are both regulatory and company-internal reasons for the shift. Previously, he had been targetting a launch in 2024.
New certification standards must be written after the FAA tweaked its requirements for advanced air mobility (AAM) aircraft earlier this year, he says on the company's quarterly earnings call.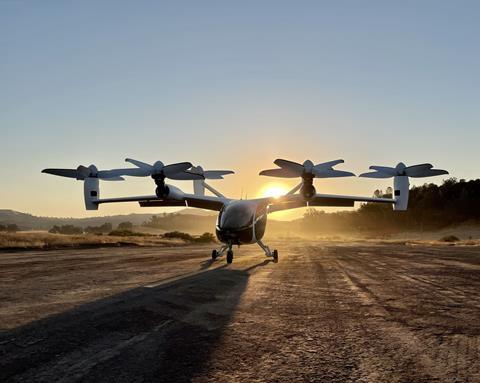 He expects a draft of the guidelines pertaining to air taxis to be ready "in the coming months, and that will increase the [timeline] certainty". The final rules are not expected until late 2024.
The FAA had said in May it now intends to certificate eVTOLs under a "special class" category rather than those which apply to small commuter aircraft under its Part 23 rules. That means the FAA will use applicable Part 23 standards supplemented by other rules, such as those for helicopters.
"We also have internal pieces that we are driving on in order to deliver on type certification," he adds. "Our ambition is to launch commercial passenger service in 2025."
"We are building a next generation aviation company, and this is hard work but it's going to pay massive dividends as we are working through the certification process, and for many years to come," Bevirt says.
Executives are optimistic for the company's new certification timeline as flight testing has made "great strides".
"We continue to generate significant amounts of data on the performance of our aircraft, regularly flying several hours per day across numerous flights," the company says in its letter to shareholders.
Joby has flown "more than 10,000 nautical miles" with its pre-production prototype since 2019. In October it recorded more flight hours than in any previous month, it adds.
"This flight data is critical to tuning our test facilities and ensuring our production aircraft is optimized to meet certification and programme goals."
Joby is developing a single-pilot electric air taxi capable of carrying four passengers on flights up to 130nm (241km) and at speeds up to 174kt (322km/h). It sees the aircraft as suited for shuttling passengers on flights over congested cities.
DOD COLLABORATION
But prior to civilian certification, Joby plans to begin operating under a plan with the US Department of Defense (DoD) in 2024.
On 10 August, Joby said it was expanding a partnership with the DoD to the tune of $45 million, boosting its defence-related business to a total of $75 million. Joby is working as a part of the US Air Force's Agility Prime programme, as well as with the US Marine Corps, which the company said at the time will participate in government-directed test flights.
Possible military applications for eVTOL aircraft include resupply, relocation of personnel, and emergency medical response applications.
The collaboration will give Joby an "important opportunity to learn about operations of the aircraft in a real-world environment", Bevirt says.
Joby Chairman Paul Sciarra adds that this cooperation could even expand further in the coming years.
"We think there are opportunities to extend to the other [military] branches over time," he says. These opportunities could be in the form of either a contractor-owned and -operated model or an acquisition-type model.
"We don't know yet which way that will go," he adds. "Both are viable, but they also may be different for different branches."
At the end of the third quarter of 2022, the air taxi developer says it had $1.1 billion in cash and short-term investments to support its operations.
Net cash used in operating activities and purchases of property and equipment totalled $207 million in the first nine months of 2022, with $74 million spent in the third quarter. The company posted a loss of $79.2 million during the three-month period.
DELTA MILESTONES
In October, Joby announced a deal worth up to $200 million with Atlanta-based airline Delta Air Lines. Under the agreement, Delta is partnering with Joby to deliver home-to-airport transportation services for its customers in New York and Los Angeles. The deal includes Delta's $60 million investment in Joby, with a potential total investment of $200 million.
Sciarra says the companies are working on joint milestones that include trials of the integrated service, and locating take-off and landing infrastructure in these chosen markets.
"We are very excited about what this Delta opportunity can provide over time," he says, adding that the two firms are "working pretty aggressively" to achieve those milestones.
Delta said at the time that the launch of the air taxi service – the date of which is as yet unspecified – would represent the "first eVTOL service to market". The deal is mutually exclusive for five years following the commercial launch of the service, which will exist alongside Joby's regular airport service in "priority" areas.