California start-up Natilus is now offering its blended-wing-body conceptual autonomous aircraft with optional hydrogen-electric powerplants produced by ZeroAvia.
The move, disclosed by the companies on 25 May, means Natilus now offers its in-development aircraft "Kona" with two powerplant options: ZeroAvia ZA600s and Pratt & Whitney Canada PT6A turboprops.
"Customers can choose between the PT6A or the [ZA600] for engines for the production Kona aircraft," Natilus says, adding it will initially produce Kona with PT6s.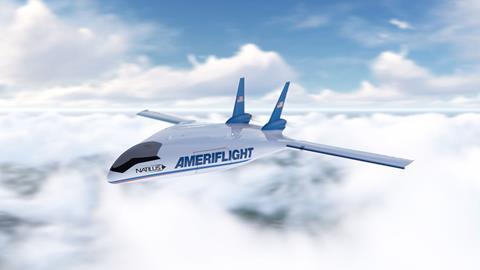 Natilus is pitching several autonomous blended-wing-body aircraft. Kona is to have 900nm (1,667km) of range and ability to carry 3.8t of payload, says San Diego-based Natilus.
ZeroAvia powerplants are hydrogen-fuel-cell designs, which use hydrogen to generate electricity used to power motors.
"ZeroAvia's ZA600 will be the sole hydrogen-electric propulsion source offered for the novel Kona short-haul feeder… with the partnership focused on delivering zero-emission and lower-cost operations," Natilus and ZeroAvia say.
ZeroAvia has been testing its ZA600 using a Dornier 228 as a test platform. It says the ZA600 programme is "on track" for certification in 2025.
In January, Natilus said it landed a commitment from US cargo airline Ameriflight to purchase 20 of the conceptual autonomous cargo aircraft.
Blended-wing-body designs are complex because their wings and bodies provide lift, but they can have less drag and better efficiency than traditional aircraft.
Wide fuselages give the designs more cabin space, which Natilus says will allow Kona to carry more hydrogen than other hydrogen-powered aircraft concepts.