Development of the VRT500 and VRT300 co-axial light helicopters looks set to continue in the United Arab Emirates under the leadership of the country's Strategic Development Fund (SDF) after it ditched its former partner Russian Helicopters.
In 2019, the SDF said it would acquire a 50% stake in VR Technologies, a subsidiary of Russian Helicopters that was developing the two rotorcraft. The partners planned to inject €400 million ($440 million) into the business.
That agreement resulted in the formation in 2020 of a Singapore-based business called Aeroter into which the VR Technologies assets were injected. It was jointly owned by state-run Russian Helicopters and the SDF, an investment arm of the UAE government.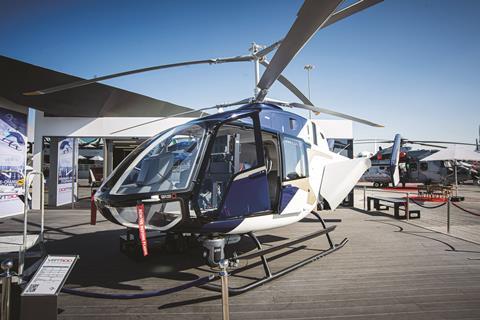 Each company held 499 shares in Aeroter, with another two held by a separate UAE-based entity called Aeroter SPV, Singapore company documents show.
A tentative order for 100 VRT500s from the SDF was also unveiled at the 2021 Dubai air show.
But development of the helicopters fell foul of Moscow's invasion of Ukraine in April 2022 and the subsequent sanctions imposed on Russian businesses. As a result, the SDF "paused any further investments in Russia to assure compliance with international sanctions", it says.
Now the SDF has reached an agreement with its former partner – signed on 14 November – allowing it "to exit and unwind Aeroter".
The deal provides for the SDF to "continue to develop the programme independently" while still adhering to the restrictions on trade with Russia.
But much about the deal remains opaque. Equipped with a Pratt & Whitney Canada PW207V engine and Safran avionics, the 1.6t VRT500 was originally conceived to have broad global sales appeal. European certification was also planned, with production in Italy even mooted.
It is not clear how those suppliers have been replaced. The SDF's insistence on its compliance with sanctions would appear to rule out use of Russian systems on the platform.
Additionally, no development timeline for the VRT500 or VRT300 – an unmanned cargo drone – have been disclosed. Russian Helicopters had previously hoped that the pair would enter service in 2024 and 2023, respectively.
Aeroter's fate and continued ownership structure also remains unknown. Singapore's companies registry still classes Aeroter as a 'live' business with seven directors: two each from Russia and Singapore, and three from the UAE.
Its Russian directors are Ervin Ilizirov and Nikolay Kolesov, respectively the finance director and director general of Russian Helicopters.