Start-up Universal Hydrogen has completed first flight of a De Havilland Canada Dash 8-300 powered partly by a hydrogen fuel-cell propulsion system.
The aircraft took off from Moses Lake in Washington on 2 March, making it "by far the largest fuel-cell powered airplane ever to fly", says Universal.
The company replaced one of the aircraft's Pratt & Whitney PW123 turboprops with a fuel-cell-powered system. Fuel cells use hydrogen and air to produce electricity.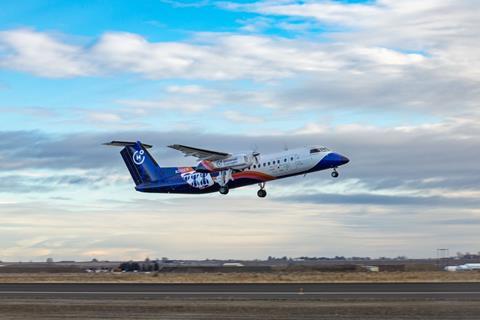 The modified Dash 8 flew for about 15min, and at one point the pilot throttled back the PW123 so the aircraft cruised principally on thrust produced by its hydrogen powerplant.
Universal has for several years been developing a hydrogen fuel-cell modification kit for Dash 8s and ATR turboprops.
It is also developing a hydrogen-fuel distribution network using hydrogen tanks it calls "modules".
On 7 February, the California-based company said it had received from the US Federal Aviation Administration a special airworthiness certificate in the experimental category, clearing it to begin flight testing its demonstrator.
Paul Eremenko, formerly of Airbus and United Technologies (now Raytheon Technologies), co-founded Universal.
Universal has said it expects to bring its technology to the aviation market in the middle of this decade.