The US Federal Aviation Administration intends to require that airlines inspect Boeing 787s for water leaks after several such incidents, including one involving water leaking into a jet's electronics bay.
"The findings include a loss of water pressure during flight and a potable water system leak, discovered after landing, that caused water to migrate into the forward electronic equipment bay and affect multiple pieces of electronic equipment," says the FAA in a new proposed airworthiness directive (AD).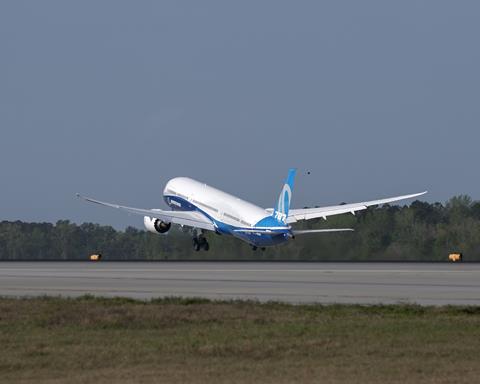 Published in the US government's regulatory library on 13 December, the proposal says detached or improperly installed "clamshell couplings" caused the leaks.
The FAA intends to require that airlines address the issue by completing steps detailed in an August service bulletin published by Boeing that addresses the issue. Carriers would be required to inspect 787-8, 787-9 and 787-10 "potable water systems for any missing or incorrectly installed clamshell couplings", the FAA's proposal says.
It adds that several 787 operators experienced such leaks. One "reported a significant water leak due to a loose potable water system hose, caused by an incorrectly installed clamshell coupling within the lavatory".
Another instance involved water leaking from a detached clamshell coupling in a 787's galley, the proposal says.