Comac's C919 narrowbody has entered commercial service with launch customer China Eastern Airlines, less than half a year since the carrier took delivery its first aircraft.
On 28 May, flight MU9191 took off from Shanghai's Hongqiao airport at about 10:33 local time, operating a 1h 57min flight to Beijing Capital airport, according to flight tracking data.
Comac, China Eastern, as well as Chinese regulators hailed the 'historic' milestone for the aircraft programme, with Comac calling the commercial debut "a new beginning" for the country's civil aviation sector. Beijing hopes the C919 programme will be a serious competitor to Airbus' A320 family and Boeing's 737 narrowbody programmes.
The C919's commercial service entry was marked with a high-key launch event at Hongqiao airport on 28 May, attended by senior officials from the Civil Aviation Administration of China (CAAC), China Eastern and Comac who later boarded the aircraft for the maiden flight.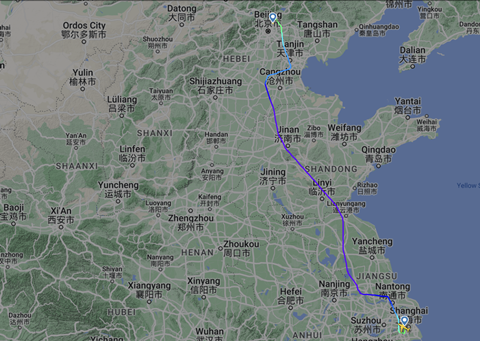 State media reports suggest the flight was carrying more than 130 passengers, including invited guests. China Eastern's C919s are configured to seat 164 passengers in two classes: eight in business class and 156 seats in economy.
China Eastern on social media says it will deploy the type on daily flights from Shanghai Hongqiao to Chengdu's Tianfu airport from 29 May, and will "gradually extend" operations to other undisclosed routes in the future.
The SkyTeam carrier took delivery of the aircraft in early December 2022 – two months after the CAAC certificated the type – and began a series of flight tests.
China Eastern had added the C919 to its commercial schedules for late February, also under flight number MU9191, but tracking data shows the service was operated by an A320. That came amid reports of issues with the aircraft that were delaying its entry into commercial service.
Although a Chinese programme, the C919 is entirely reliant on western systems, including its CFM International Leap-1C engines.
The commercial debut also comes a month after Comac secured commitments from privately-owned Hainan Airlines for 60 C919s, which will eventually go to subsidiary Urumqi Air and Suparna Airlines.