Air Baltic has seen maintenance of the Pratt & Whitney PW1500G geared turbofans (GTFs) that power its Airbus A220-300s take months longer than expected as supply-chain and labour challenges weigh on the MRO sector, but the airline expects the situation to improve.
Speaking to FlightGlobal at the Airlines for Europe (A4E) Aviation Summit in Brussels in late March, Air Baltic chief executive Martin Gauss sang the praises of the GTF – when it is on the aircraft wing – but said availability of spare engines continues to be an issue that creates daily challenges for the airline.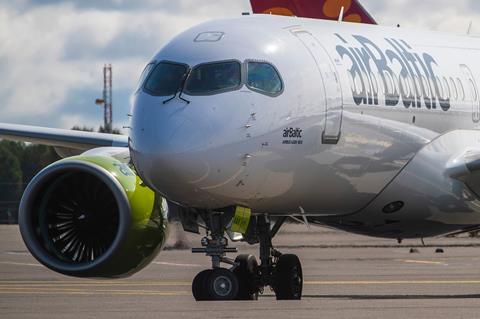 Gauss expresses particular frustration that having secured its summer capacity after agreeing to wet-lease four A320s from Avion Express – a deal made in response to the MRO delays – Air Baltic had to announce the short-term wet-leasing of four more aircraft barely two weeks later, when a fresh forecast on spare engine deliveries showed a deterioration in availability.
"The engine itself is performing even above expectations if it's about the fuel burn, reliability and so on," Gauss states. "The only problem for us is to get the engine on the wing."
Amid the lack of spare engines, the airline is seeing some aircraft grounded for much longer than the 24-hour turnaround that would usually be expected when an engine is removed for maintenance, he says.
Moreover, under normal circumstances, an engine would go for maintenance and be ready 60-90 days later, Gauss explains, "but that timescale can now be closer to one year".
In one case, Air Baltic had an engine "that was away for 386 days", he states.
The delays are being caused by "insufficient spare parts and insufficient labour" at the maintenance provider, the Air Baltic chief says, and says spare engines are few and far between.
Despite the recent setbacks, however, Gauss believes the situation is getting "significantly better" and says Pratt & Whitney and Airbus have communicated well on the issue.
"We had a forecast that showed a steep improvement," he states of the coming months, but notes that he expects problems for Air Baltic to continue "into 2024".
"Pratt & Whitney expects industry-wide supply chain pressures to ease later this year, which will support increased output of new and overhauled engines," Pratt & Whitney says regarding its current challenges. "In the interim, we are providing direct logistical support to our suppliers as well as developing solutions to improve engine durability.
"Ultimately, the GTF engine is the most fuel efficient, sustainable engine for narrow body aircraft and we continue to see strong demand."
Air Baltic is particularly vulnerable to the engine availability challenges for a number of reasons, Gauss goes on to explain.
First, he suggests that engines from the A220 programme's earlier aircraft require more time off-wing than engines on later-delivery A220s, because the latter's engines incorporate modifications reflecting the maturity of the programme.
At the same time, few airlines have operated the A220 for as long as Air Baltic – or have as large a fleet of the type – so most have not had the same level of exposure to the issues.
Gauss further adds that smaller carriers are more vulnerable to the challenges around their aircraft being grounded, simply because they do not have a long list of other aircraft and types to call upon.
Air Baltic is far from alone in experiencing such challenges with MRO delays, however, with many other carriers making similar complaints about the GTF, and other engines and aircraft parts covering different manufacturers. Many have noted that the latest-generation technology has been particularly vulnerable to the maintenance delays.
As the challenges continue, Air Baltic is in the counter-intuitive position of having to wet-lease in aircraft at a time when some 14 of its 40 A220-300 aircraft are themselves wet-leased out to other carriers for the summer season. But Gauss says this reflects Air Baltic's commitment that "we do not cancel flights".
The incoming wet-leases are therefore a necessary short-term move that ensures the airline can keep its own schedule and honour the terms of wet-lease deals with other carriers, including Lufthansa Group, he says.