Air France-KLM sees SAS's eventual membership of its transatlantic joint venture as the "biggest benefit" from its investment in the carrier, arguing that the Scandinavian operator has been "held back" from fully capitalising on its strengths.
Speaking during the group's third-quarter earnings call on 27 October, Air France-KLM chief executive Ben Smith said the initial benefits from taking a 19.9% stake in the Scandinavian carrier as part of a consortium – a deal which is still subject to regulatory and court approvals – will come from it "switching from Star Alliance to SkyTeam and the commercial relations we can put in place".
But the subsequent step would be for SAS to become part of the transatlantic joint venture between SkyTeam carriers Air France, KLM, Delta Air Lines and Virgin Atlantic, he says.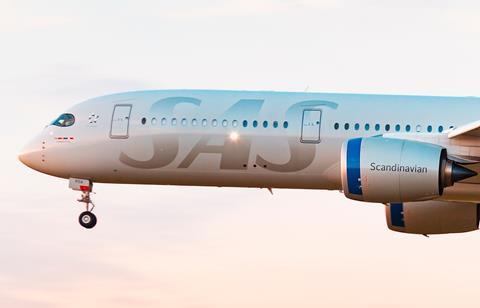 "So we would obviously need anti-trust immunity from the US [Department of Transport] and the equivalent from the European Commission, but that would be the biggest benefit that we see in SAS," Smith states.
Crucially, Smith's view is that SAS's operation "completely underperforms from a long-haul perspective" because the carrier is not closer to its alliance stablemates.
"The opportunity with a friendlier group, a larger group, which can capitalise on the position we already have [in Scandinavia] and eventually hopefully come into our joint venture should position us to pull and attract traffic from the other two big joint ventures," he explains.
Those two rival joint ventures are the Oneworld-focused grouping, which includes British Airways, American Airlines, Iberia, Aer Lingus and Finnair, and a Star-focused grouping, which includes Lufthansa, United Airlines and Air Canada but not SAS.
"We're not looking to transfer our own traffic or shift our own traffic [to SAS's markets], we are looking for incremental traffic that today is more difficult to capture because … SAS was never invited into the United/Lufthansa joint venture, and that had probably held them back from being able to fully leverage their positive strategic geographical location," he says.
Amid that constraint on SAS's performance, Smith unfavourably contrasts the carrier's competitive position at its Copenhagen and Stockholm hubs with the example of KLM's at Amsterdam Schiphol, stating: "It doesn't compare whatsoever."
And whatever happens with the transatlantic joint-venture ambitions for SAS, Smith clarifies that the "initial benefit" of the carrier switching from Star to SkyTeam "more than justified the investment" alone.
He adds that the deal is seen as complementary to Air France-KLM's existing "fantastic position" in Scandinavia, which is driven by KLM connections to Schiphol.
Further explaining the group's confidence in taking a stake in SAS – a deal under which it could eventually hold a majority stake – Smith cites the fact that SAS chief executive Anko van der Werff is a former senior manager at KLM, saying that was "part of the reason we were comfortable with the investment".
"They already have what we view as very good strategic plans to improve their position within Europe," he says, citing network adjustments, "fleet rework" and productivity improvements among employees.
"We don't see anything but upside there," Smith continues. "It's a fantastic market opportunity; yields that we derive there are quite strong, and [it's] a growth opportunity for attracting traffic from our competitors.
"And if you look at the size of SAS today, we don't see anything but upward opportunity."
Speaking on the same earnings call, Air France-KLM chief financial officer Steven Zaat clarified the route through which the group might eventually take a controlling stake in SAS.
"There are options to buy the shares when the financial conditions are met on our margins," he says of adding to the group's initial 19.9% holding. "It is very important that we stick to our margins and also stick to our net debt/EBITDA [ratio].
"Only when we are getting the margins… will [we] be going for a majority share."
That is unlikely to happen in the first "two to three years" of the group's investment, Zaat predicts.
Air France-KLM's stake in SAS is still subject to regulatory and court approval (relating to SAS's Chapter 11 process), but Smith expresses optimism that the non-controlling nature of the group's initial investment should mean there are fewer hurdles to overcome. He also says that market dynamics mean any slot remedies required by regulators might be fairly light compared with those likely to accompany other consolidation moves under way in Europe, but notes the group always plans for "a worst-case scenario from a regulatory remedies perspective".