Less than two months before the new Berlin Brandenburg International airport is scheduled to open after years of delays, the airport's operator Flughafen Berlin-Brandenburg (FBB) will need an additional €300 million ($354 million) if it is to remain solvent on its opening day.
That is the essence of a letter the German Finance ministry sent to the federal parliament's budget committee earlier this week, according to reports in German media on 9 September.
"Without the financial commitment from the shareholders, FBB's ability to meet financial obligations in 2020 is not secured," the ministry's state secretary Bettina Hagedorn wrote in the letter. The company needs the additional funds to make up for losses experienced by the other Berlin airports it manages - Tegel and Schoenefeld - due to the coronavirus pandemic earlier this year.
The planned aid would consist of a grant of 99 million euro, and loans of about 201 million euro.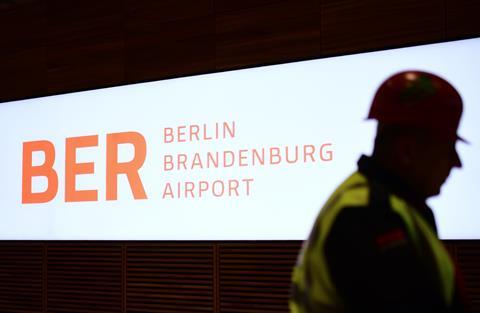 The federal government owns 26% of FBB's shares, and the states of Berlin and Brandenburg each hold 37%.
Opposition lawmakers in parliament had hoped to stop the additional financial assistance for the airport, which is scheduled to open for business on 31 October, more than eight years late. But the federal government stepped in to support the aid.
"We are prepared, along with the other shareholders, to secure the necessary liquidity," German finance minister Olaf Scholz told the German parliament on 9 September. The federal government's share is worth 78 million euro. The states of Berlin and Brandenburg have not yet released their portions.
But that is not all. Depending on the development of air traffic in the coming months as the industry recovers, the new airport could require another 500-700 million euro to stave off a potential bankruptcy.
Berlin Brandenburg International airport has a long and troubled history. The project was launched in 1996 but years of financial issues hampered its construction, and the costs skyrocketed. In the meantime the project's total pricetag has risen to more than €7 billion.
Design and building flaws as well as numerous management changes slowed completion, and just a few weeks before its planned commissioning in June 2012, a series of safety inspection failures prompted authorities to abruptly halt the airport's opening.
In early 2020, eight years after its proposed completion, the coronavirus pandemic threatened to derail the opening yet again. But FBB says its preparations are almost complete, and testing of the facility is currently in full gear. Volunteers are playing the role of passengers in testing of the airport's operations.