Etihad Airways claims that its profitable performance in the first half of 2022 shows that its years-long transformation effort is beginning to produce results.
The six-month operating profit of $296 million comes with the Abu Dhabi carrier more than four years into a major restructuring programme, under which it has recast itself as a "mid-size" airline following years of losses amid a failed equity-alliance strategy.
Outlining its latest financial figures on 28 July, the restructured carrier cites the benefits from its "constant focus on cost containment", combined with the "travel boom" created by the relaxation of Covid-related restrictions, as underpinning its profitable performance in the six months to 30 June.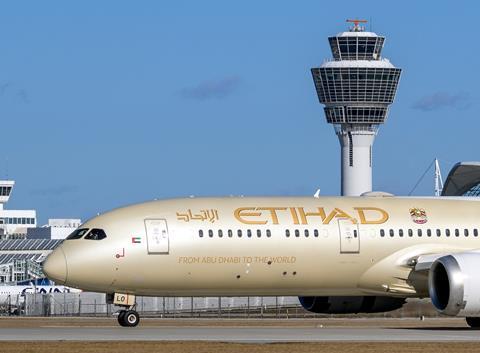 The $296 million operating profit marks a recovery from the $392 million loss recorded for the first half of 2021.
"Our transformation programme has made Etihad substantially more resilient and efficient, and we are extremely proud of our return to profitability in the first half of 2022," says Etihad chief financial officer Adam Boukadida. "In the first half, we managed to further reduce our fixed overhead and finance costs by $50 million compared to H1 2021, reduce the level of debt on our balance sheet, and improve our EBITDA by more than $600 million.
"While ramping up our operations and recording a four-fold increase in passenger volumes, we kept a tight hold on our cost base.
"As a result, our operating costs only rose by 26% despite a 46% increase in deployed capacity."
Passenger revenues of $1.25 billion were triple those seen in the equivalent, pandemic-hit period of 2021, Etihad notes, while cargo income was up 6% at $802 million, despite the return of passenger demand limiting the availability of bellyhold capacity.
EBITDA for the period came in at $690 million.
Etihad says it carried just over four million passengers across the six months, at an average load factor of 75%. It adds that loads "increased consistently" across the period, boosted in particular by Abu Dhabi relaxing pandemic-related restrictions in February.
Etihad ended the first half of 2022 with 71 aircraft in its fleet, compared with 64 at the same point in 2021 and around 100 at the end of 2019.