Demand for air freight dropped below 2019 levels last year, as the sector experienced a comedown from the highs recorded in 2021 but still benefited from strong yields.
Releasing full-year cargo traffic and capacity data on 6 February, IATA said the "significant political and economic uncertainties" faced during 2022 partly explained the drop in demand. The year also saw a degree of normalisation in the shipping industry, meaning air freight lost some of the economic attractiveness that drove the record performance in 2021.
Still, 2022 saw yields and revenue continue to trend above pre-Covid levels, IATA states – a dynamic that it expects to continue into 2023.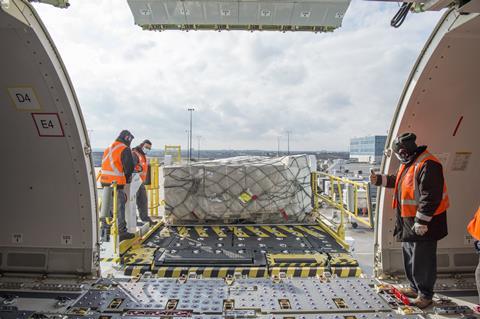 Full-year air freight demand was down some 8% year on year in 2022, IATA says, and fell by 1.6% against 2019. Capacity was 3% up on 2021 and 8.2% down on 2019, partly reflecting the work-in-progress that is the return to service of belly capacity in key markets.
Amid a demand picture that worsened across the year, December 2022 demand was down 15.3% versus the same month in 2021, marking the 10th consecutive month of decline.
IATA notes that new export orders – a leading indicator of air cargo demand – were shrinking in all major economies except those of Germany, the USA and Japan as the year ended, while data for trade in global goods showed a decline in November. It adds, however, that there were early signs of inflationary pressures easing.
Nevertheless, continuing efforts by governments to counter inflation by "cooling economies" are expected to result in a 5.6% decline in cargo volumes in 2023 against 2019 levels, IATA forecasts.
"It will, however, take time for these measures to bite into cargo rates," says IATA director general Willie Walsh.
His view, therefore, is that average yields and total revenue for 2023 "should remain well above what they were pre-pandemic".
"That should provide some respite in what is likely to be a challenging trading environment in the year ahead," Walsh says.
European carriers saw the worst performance in 2022, reporting an 11.5% year-on-year decrease in demand, IATA data shows, with the war in Ukraine being a significant factor in the decline. Compared with 2019, demand was down 8.7% and capacity was 16.5% lower.
In the biggest air cargo market of Asia-Pacific, an 8.8% year-on-year decline in demand came amid "lower levels of trade and manufacturing activity and disruptions in supply chains due to China's rising Covid cases", IATA states. Capacity in the region was up 0.5% year on year. Against 2019, demand was down 7.8% and capacity reduced 17.2%.
North American carriers reported a 5.1% drop in demand in 2022 versus 2021 on a capacity increase of 4.2%. Compared with 2019, demand was up 13.7% and capacity was 8.2% higher. The region's carriers had been particularly hard hit by US-China trade tensions in 2019.
Among the smaller regions, Middle Eastern carriers saw a 10.7% year-on-year drop in demand in 2022, on capacity some 4.3% higher. Compared with 2019, demand was down 1.6% and capacity fell by 6.3%.
The tiny Latin American market – some 2.7% of global capacity in 2022 – saw the strongest year-on-year performance from its airlines, with a 13.1% year-on-year increase in demand in 2022, on capacity up 27.1%. Compared to 2019, however, demand in 2022 was 4.3% down and capacity some 14.3% lower.
In the smallest air cargo market, African carriers reported a year-on-year decrease in demand of 1.4% in 2022 on capacity that was up 0.3%. Compared with 2019, demand was up 8.3% and capacity down 15.3%.