Canadian commuter airline Harbour Air has made good on its promise to fly an all-electric commercial aircraft before year end.
A Harbour Air de Havilland DHC-2 Beaver seaplane lifted off the Fraser River near Vancouver on 10 December, marking what the company says was the first time an all-electric commercial passenger aircraft has taken flight.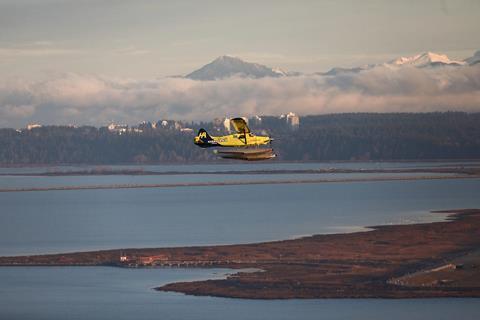 Harbour Air and Washington-based propulsion company Magnix spent recent months replacing the six-passenger Beaver's Pratt & Whitney P-985 Wasp Junior piston engine with a Magnix-made magni500 electric propulsion system. They call the aircraft "ePlane".
"We made history," says Harbour Air chief executive Greg McDougall, who piloted the aircraft, in a media release. The flight lasted about 4min, according to a video released by Harbour Air.
The companies are now working to receive certification for the modified aircraft, with the goal of eventually launching passenger flights.
Harbour Air and Magnix announced their partnership in March, at which point McDougall said he aimed to begin passenger service within two years.
Electric aircraft rely on energy from batteries, and have a fraction of the energy density found in liquid fuels. That means, generally, that all-electric aircraft cannot nearly match the range or flight duration of aircraft powered by fuel-burning engines.
While such constraints might make all-electric aircraft a non-starter for most airlines, McDougall says such aircraft would work well in Harbour Air's seaplane operation, which largely includes short-distance flights of roughly 30min in duration.
He said in March that the Magnix propulsion system will provide enough power for 30min flights and 30min of reserve power. Batteries will need to be changed after flights, but lithium batteries charge quickly, McDougall said.
The lithium-battery backed magni500 system throws off 750hp (559kW), revolves at a base speed of 1,900rpm and has a maximum speed of 2,600rpm. The motor weights 135kg (297lb), according to Magnix.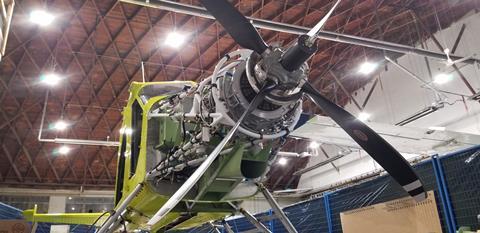 McDougall has said he eventually intends to install magni500s on all Harbour Air's aircraft. The carrier operates 34 aircraft, including Beavers and PT6-powered Otters and Twin Otters, according to Cirium fleets data.