The collapses in recent days of UK carrier Flybe and Norwegian operator Flyr might give the impression of a harsh operating environment for European airlines.
But despite the airline industry having plenty of reasons to curse its luck over the past few years, these new failures offer few fresh business lessons in a region where most established players are looking forward to 2023 with some optimism regarding improved financial prospects.
Ultimately, both carriers were small start-up businesses that were struggling to gain footholds in highly competitive markets – nothing new in the airline industry. Add in the fact that they launched operations during a pandemic which then transitioned into a period of high costs, staffing shortages and supply-chain challenges, and the odds were never in their favour.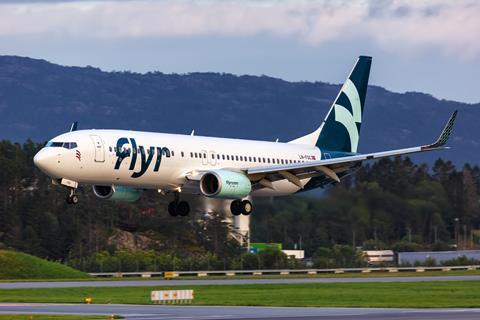 When considering the impact of their demises, both have failed in markets that had recently become accustomed to replacing capacity lost to struggling or collapsed rivals. In the case of Flybe, this was the brand's second collapse in three years, meaning the revived airline entered a market in April 2022 where regional and other competitors had already had time – albeit during a pandemic – to hoover up commercially interesting routes that it previously operated.
In Flyr's case, Norwegian's pre-Covid retrenchment and quasi-hibernation in the first months of the pandemic had theoretically left a capacity hole in Scandinavia's low-cost market that still looked appealing when it launched operations in mid-2021 – but perhaps less so as time went on, with Norwegian re-establishing its credibility as a sustainable business that had a much larger footprint than Flyr.
In capacity terms, then, their absences will not be keenly felt. They exit their markets with similar fleet sizes: nine De Havilland Canada Dash 8-400 twin-turboprops in the case of Flybe and 12 737-family jets in the case of Flyr.
Cirium fleets data indicates there were almost 700 commercial passenger airliners in service with UK-based airlines in late January, meaning Flybe's fleet was around 1% of the total. Considering only regional aircraft, Flybe's fleet was around 9% of the UK's total, or 8% when Ireland's Emerald Airlines is added to the data.
Emerald – which operates as an Aer Lingus franchisee – is among the carriers planning to fill some of the network gaps left by Flybe's demise, alongside Longanair.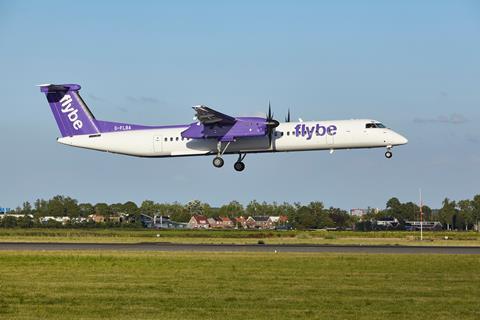 In Flyr's home country of Norway, its 12 jets accounted for around 10% of a commercial fleet of approximately 100 in-service airliners. Add neighbouring Sweden and Denmark to the data – which brings SAS and its strong Norwegian presence into consideration – and its fleet dropped to around 4% of the 308 aircraft in service in late January.
Most notably, Flyr was up against the aforementioned resurgent Norwegian, which had amassed a fleet of around 80 737-family aircraft by late January this year.
Highlighting the challenges faced by airlines such as Flyr when it comes to operating with smaller fleets, Norwegian chief executive Geir Karlsen says his carrier will only start to achieve important economies of scale once it has around 90-95 aircraft.
Karlsen has also made a big play of reflecting seasonality in Norwegian's cost base, having acknowledged the challenges of the winter demand slowdown for the region's airlines – a phenomenon Flyr only knew too well, as it cut services heading into the current winter.
Widening the fleet impact to consider the whole of Europe, the absence of 21 Flybe and Flyr aircraft amounts to little more than a rounding error in a commercial passenger fleet of around 5,800 in-service aircraft.
In network terms, Cirium schedules data for flights touching Norway at the end of the summer 2022 season shows Flyr's 1,763 flights in September compared with nearly 8,000 operated by Norwegian, almost 7,000 by SAS and nearly 11,000 by regional carrier Wideroe.
Among Flyr's top international destinations from Oslo and a handful of other Norwegian airports in September 2022 were Alicante, Barcelona, Malaga and Rome. On those routes – as on its domestic services – Flyr faced competition from Norwegian and SAS in particular.
Flybe, meanwhile, was operating a host of domestic services and a smattering of international flights from UK airports including Belfast, Birmingham, East Midlands, London Heathrow and Southampton.
Reflecting the tough competitive environment faced by Flybe, it was up against airlines variously including Aer Lingus, British Airways, EasyJet, Emerald Airlines and Longanair on UK domestic services from its key cities, if not always on the same routes.
And days before Flybe's collapse, Ryanair had announced its return to UK domestic operations, including several routes from Belfast.
On international flights, Flybe faced a similarly competitive environment, often including Europe's biggest low-cost and leisure operators, making thin, niche routes the only likely sustainable option for growth.
All told, in an industry notoriously challenging for start-ups, both Flybe and Flyr never really got out of the traps, leaving them to join the long list of failed airlines.
Read the newsletter for free every week by signing up to the Airline Business Weekly Briefing