IAG posted a 43% jump in operating profits to €1.75 billion ($2.05 billion) for the third quarter on continued strong demand which drove passenger revenues up a fifth for the period.
Improved operating profit before exceptionals across the group's four main airline brands for the three months ending 30 September 2023, saw British Airways, Iberia, Vueling and Aer Lingus all exceed profit levels for the same period before the pandemic in 2019.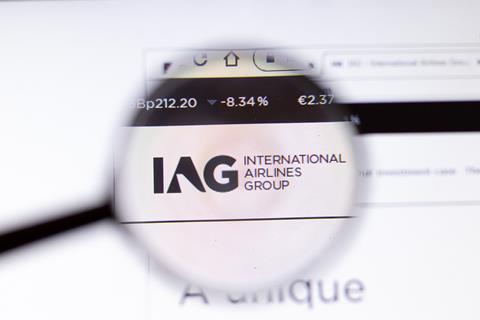 British Airways led the way with an operating profit of €718 million for the quarter, while Iberia profits hit €449 million – an improvement of almost €200 million on the same quarter last year and in 2019.
Vueling, the first of the group's carriers to return to the black post-pandemic, made a profit of €282 million for the third quarter. Irish carrier Aer Lingus posted a €196 million operating profit.
The performance was driven by strong passenger revenues. These climbed 20% for the quarter to €7.7 billion on capacity increased 18%. Passenger traffic growth outpaced that, rising more than 20% and helping lift load factor two points to 88.9%.
Cargo revenue though was down 30% to €263 million in the quarter, meaning a slightly lower rate, 18%, of growth in IAG overall revenues to €8.65 billion.
IAG chief executive Luis Gallego says: "This quarter represents a record third quarter performance for IAG. This is allowing us to invest in the business and reduce a significant amount of our debt.
"During the third quarter we saw sustained strong demand across all our routes, in particular the North and South Atlantic and in all leisure destinations around Europe."
While IAG says it maintains "good forward bookings", it adds that it remains "mindful of wider macroeconomic and geopolitical uncertainties that might affect the remainder of this year".