IATA is warning that the increased debt levels being racked up by airlines to counter the revenue shortfall during the coronavirus grounding means a slower recovery and the potential for failures remain even though state interventions have been made.
The airline association estimates collective industry debt levels could increase more than a quarter this year to around $550 billion, in part because more than half of the recent round of state funding support is in repayble forms.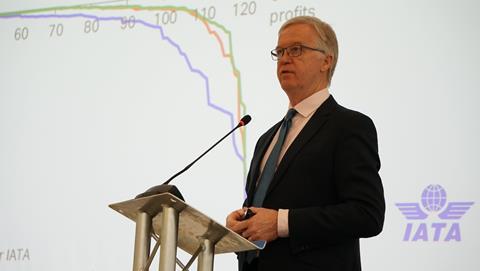 IATA released analysis today which showed governments have provided airlines $123 billion in financial support during the crisis so far.
That government support has helped avert potentially more airline failures, particularly as IATA has previously flagged carriers typically had enough cash to survive for two months and the industry was burning through cash at a rate of $60 billion a quarter while effectively grounded.
But while there have been some high profile carriers entering formal restructuring, including Latin America's biggest airline LATAM Airlines Group earlier today, there have been relatively few airline collapses since the crisis began.
"We have seen some airline failures, but only a handful," said IATA chief economist Brian Pearce, during a media conference today. He cites three key factors which have enabled airlines to survive the crisis.
"Airlines have been able to make that cash last longer through cutting some of their costs. Secondly, they have turned to banks and capital markets - or at least the stronger airlines have turned to private sector financial funding to raise more cash. Thirdly, we have seen substantial government support."
IATA notes $67 billion of the government support is in the form of state loans, guarantees and deferred taxes - all of which will need to be repaid. The largest chunk of the balance is almost $35 billion in wage subsidy schemes, while IATA estimates around $11.5 billion in equity financing.
"That's a lot of new debt that has been loaded onto the balance sheets of the airlines that are being supported," says Pearce.
IATA estimates at the end of last year the airline industry had about $430 billion of debt. The combination of government aid and commercial loans raised by airlines, contributes to an expected jump of about $120 billion in debt to $550 billion by the end of the year.
"The problem is we have only seen about $30 billion in new equity - either issues by airlines on the capital markets or the $11 billion equity injection provided by governments," he says. Given the tough revenue environment for the rest of this and next year, generating cash-flow to service these debt will be challenging.
"So debt is going to be a very substantial burden on the industry as it moves into the recovery phase," Pearce adds. "The consequences are we could easily see airline failures under the weight of this debt, or alternatively we could see more government involvement if there is the need to swap some of that debt for equity."
While government support during this crisis has been welcomed - and called for - by IATA, the association has flagged concerns about the uneven spread of this support.
"Although in total government support looks fairly substantial at $123 billion, it has been very unevenly spread and where governments haven't supported airlines, we have started to see airlines starting to get into difficulty.
"A region like North America has seen aid equivalent to 25% of last year's revenues, very substantial support," Pearce says, adding in Europe it is around 15% and Asia-Pacific it is 10%. "But airlines in Latin America, Africa and the Middle East, have seen support of barely 1% of their operating revenues. So there is clearly an issue here with the lack of support for airlines in emerging markets, which is obviously a concern."
Pearce also notes that aid is not just being given to the stronger airlines. "There is no clear correlation between good prior financial performance the extent of aid, " he says.
"So you have countries which before the crisis had a very good financial performance [getting] little support. So there remains the possibility that we are going to see some future casualties in the industry of airlines that had business models that were very strong prior to the crisis."
IATA director general Alexandre de Juniac adds: "Government aid is helping to keep the industry afloat. The next challenge will be preventing airlines from sinking under the burden of debt that the aid is creating."