Icelandair Group is planning to retire four Boeing 757-200s over the next few weeks, which will be placed with part-out schemes.
The company says some of the components will be cannibalised for its remaining 757s while others will be sold.
Icelandair Group says the retirement is part of its broader phase-out of the twinjet type and – along with its sale of three others for cargo conversion – will bring its 757-200 fleet down to 15 aircraft.
"The airframes will be recycled to the extent possible," says the company in its third-quarter financial disclosure. Its retirement strategy for the 757, it adds, is aimed at "maximising the value" of the withdrawal, including reducing the costs of engine overhaul.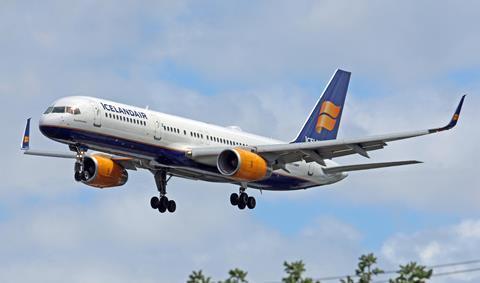 Icelandair Group has been undergoing a fleet renewal which includes introducing 12 Boeing 737 Max jets, six of which have still to be delivered following the type's suspension.
The company says it expects recertification of the aircraft before the end of this year and that the Max will "return to service" on the Icelandair network in the first quarter of 2021.
Delivery of the remaining six Max jets is scheduled to begin in the second quarter of next year, running to the first half of 2022.
The airline says it will have 27-30 aircraft available for the summer 2021 schedule, with 17 757s – including the -300 variants – plus four 767-300ERs and six to nine 737 Max.
Four other 737 Max aircraft were cancelled as part of a compensation agreement with Boeing covering losses from the suspension.
This "fully executed" agreement, says Icelandair Group, has generated additional income for the company in a year in which the pandemic has wrecked the operator's financial performance.
It attributes nearly $225 million of its $293 million net loss, over the first nine months of 2020, directly to one-off costs related to the pandemic.
"Operations of Icelandair Group in 2020 have been, and will continue to be, characterised by exceptional uncertainty in the near future," it says. "Preserving cash will be the main focus in the coming months."