Icelandair Group has reached a sale-and-leaseback agreement for a pair of Boeing 767-300ER which will be converted into freighters.
The aircraft are being sold to Atlas Air Worldwide Holdings' associated joint venture Titan Aircraft Investments.
Icelandair Group says the 767s will be converted in spring next year and be re-introduced, to the fleet of Icelandair Cargo, in September 2022.
They will replace a pair of Boeing 757-200 freighters which will be withdrawn from the fleet in 2023-24.
"Until then, the aircraft will be operated within Icelandair Group's passenger network and leasing operations," the company states.
There are four 767-300ERs in the Icelandair fleet – registered TF-ISP, TF-ISO, TF-ISN and TF-ISW – all of which are fitted with General Electric CF6.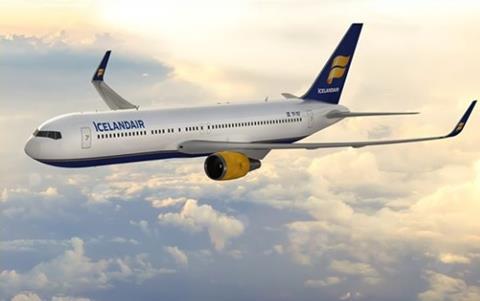 Icelandair Group says the lease period for the twinjets is 10 years. "The agreement will have a positive impact on [our] liquidity," the company adds.
Chief executive Bogi Nils Bogason says the 767s have 50% more capacity than the 757 freighters and "fit very well" into the network.
"I am confident that the 767-300ER freighters will allow us to maximise new opportunities in our markets," he says, adding that the company wants to "strengthen" Iceland as a cargo hub.
Titan Aircraft Investments is a joint venture between Atlas Air subsidiary Titan Aviation Holdings, which has 21 767-300ERs, and Bain Capital Credit. Terms of the sale-and-leaseback have not been disclosed.