Some US lawmakers and consumer advocates are calling for expansion of the US government's role in overseeing airlines, while others are warning that regulatory expansion will only erode airline competition.
That disagreement – and differing opinions about JetBlue Airway's planned acquisition of Spirit Airlines – dominated a 23 March Senate hearing, during which lawmakers considered provisions that could be included in the Federal Aviation Administrations' next spending bill.
"In this year's FAA reauthorisation, I hope we can work together on a new Passenger Bill of Rights that gets a better deal for the US consumer," says US democratic senator and Senate Commerce Committee chair Maria Cantwell. "Congress must end unfair and hidden fees."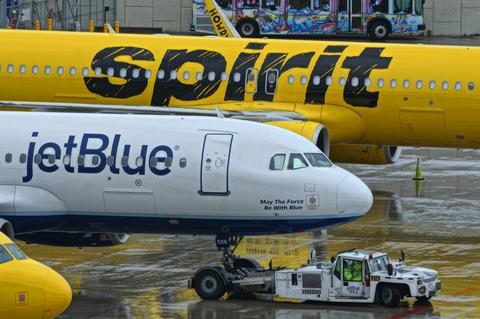 The hearing comes at tumultuous times for US airlines. During the Covid-19 pandemic, the US government supported airlines with billions of dollars in grants, which carriers used to pay staff they might otherwise have laid off. Airlines still cut their payrolls significantly during the pandemic through voluntary leave programmes.
Now, air travel is roaring and airlines are springing back to health. But they are short on pilots and have suffered recent high-profile operational meltdowns – some caused by factors outside their control (like air traffic control issues), and others within their purview (those sparked by staff shortages and computer-system failures). Notably, Southwest Airlines cancelled thousands of flights during a weather-related operational collapse in December.
Such factors sparked calls during the 23 March Senate hearing for a stronger government hand.
"Every day passengers are faced with fewer choices, higher fares and a plethora of junk fees added onto airfares," William McGee, senior fellow at "anti-monopoly" Washington nonprofit American Economic Liberties Project, tells lawmakers.
Senate democrats are pushing to include several airline-regulating measures in the next FAA bill. The agency's current funding ends in September.
Proposals include those that would require airlines to refund passengers for tickets on cancelled flights. Customers are already entitled to refunds if they ask, but carriers often get away with only providing credits toward future travel, critics say.
Cantwell also supports provisions to prohibit airlines from charging passengers to sit beside family members, and she is calling for Congress to give the US Department of Transportation's (DOT) Aviation Consumer Protection office more money.
Jeffrey Shane, former DOT under-secretary of policy and IATA's former general counsel, pushed back.
"I hope nobody is thinking about requiring [discount airlines] to desist from unbundling – charging all passengers the same thing whether they check a bag or not," he tells lawmakers in written testimony. "If they did, the bizarre result would be to require passengers travelling with nothing more than a carry-on to subsidise the passengers who check bags free of charge. That would be the very [antithesis] of transparency in pricing."
Much of the hearing related to JetBlue's proposed acquisition of Spirit. The US Department of Justice sued to block the move on anti-competitive grounds and a trial is set to start October.
"The JetBlue-Spirit combination is the first merger that we enthusiastically support because it sets competition to the highest standards for workers and consumers," Association of Flight Attendants-CWA president Sara Nelson tells lawmakers.
She says a joined JetBlue-Spirit could better take on larger competitors, and notes JetBlue intends to remove seats from Spirit's aircraft – increasing passengers' comfort – and to hire workers that Spirit currently employs indirectly through contractors.
But Diana Moss, president of the American Antitrust Institute, argues differently, saying more airline consolidation will bring pricier airfares, more fees, reduced quality and lower employee wages.