Lufthansa Group says it is on track to exceed its pre-Covid financial performance in the second quarter of the year, despite capacity still being significantly down on 2019 levels, amid strong post-Covid demand for travel.
Reporting a loss for its seasonally weak first quarter on 3 May, the airline group cites "high booking inflow" during the first few months of 2023, particularly from the private travel segment, with business travel having more ground to make up.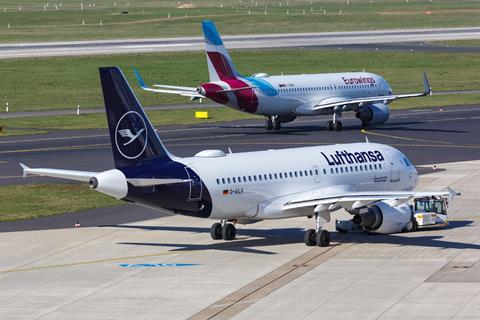 Notably, with capacity expected to be around 82% of pre-Covid levels in the second quarter, yields are forecast to be 25% higher, having been up 19% in the first three months of the year.
That comes amid continued "catch-up effects" in passenger demand from the pandemic, the group states.
"After a good first quarter in which we were able to significantly improve our result, we now expect a travel boom in the summer as well as a new record in our traffic revenue for the year as a whole," says Lufthansa Group chief executive Carsten Spohr. "On short- and medium-haul leisure-oriented routes, demand is already exceeding 2019 levels."
Group revenue of €7 billion (€7.7 billion) in the first quarter was some 40% higher year on year but down by around €800 million from 2019.
The group's EBIT loss of €304 million for the January-March period halved its 2022 loss and was broadly in line with its 2019 performance. The net loss of €467 million was an improvement from €584 million in 2022, but was down on the €342 million net loss in 2019.
The results reflect differing fortunes for the passenger and cargo segments of the business, echoing trends seen elsewhere in the industry.
For Lufthansa's passenger airlines, an EBIT loss of €531 million during the seasonally weak first quarter was a halving of the deficit from 2022.
But weighing on group results in the first quarter was "normalisation" in the cargo sector, where the Covid-era boom has moderated across global markets. Lufthansa Cargo generated a positive EBIT of €149 million, down from €481 million in 2022.
Within the passenger segment, Swiss was the only carrier to generate a positive EBIT result, of €77 million. Elsewhere, Lufthansa mainline reported a €381 million loss, Austrian a €73 million loss, Brussels Airlines a €44 million loss and Eurowings a €104 million loss.
MRO business Lufthansa Technik more than doubled its EBIT profit year on year to €135 million.
On its preferred measure of adjusted EBIT, Lufthansa Group says it expects to exceed its 2019 performance – which saw it achieve a profit of €754 million – in the second quarter of 2023.
The group continues to take a relatively cautious approach to capacity, guiding at 85-90% of 2019 levels for the full year.