Norse Atlantic Airways is looking to issue another 9.1 million shares to investors, following the successful completion of a private share placement which raised gross proceeds of NKr613 million ($55 million) – higher than the NKr501 million originally sought.
The private placement – aimed at shoring up liquidity for the winter season – has resulted in the allocation of nearly 55.7 million new shares at a price of NKr11.
Norse Atlantic had stated that investors, including its largest shareholders Scorpio and BT Larsen, had pre-committed to the original full offer of NKr501 million before the formal subscription period.
It states that the "strong demand" prompted the airline to increase the private placement to NKr613 million, and it describes the placement as "successful".
While Scorpio has been allocated its full NKr150 million pre-commitment, the demand has led to BT Larsen's similar pre-commitment of NKr150 million being scaled back to its pro-rata share, around NKr122 million.
The private placement will be issued in two tranches respectively comprising around 9.98 million and 45.7 million shares.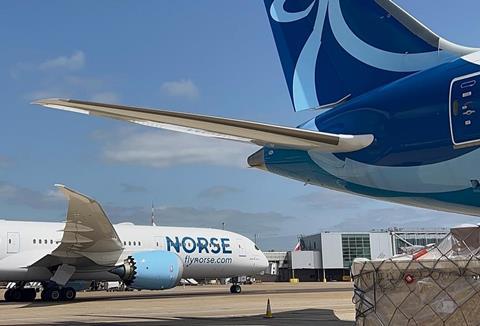 Norse Atlantic had previously indicated that it would consider a subsequent offer of additional shares to investors who had not participated in the private placement.
The airline's board has resolved to carry out the subsequent offering – subject to certain conditions – through which up to 9.1 million shares would be made available, at the same NKr11 price.
It says this subsequent offering is intended to "limit the dilutive effect" of the private fundraising round and, if it goes ahead, the subscription period will commence "as soon as possible" following publication of a prospectus.
Norse Atlantic had previously disclosed that it was exploring strategic alternatives for the carrier's development, and it states that it will appoint an "internationally-recognised" specialist advisory firm no later than 10 November.