Australia's Regional Express (Rex) intends to add two more Boeing 737-800s by end-June 2024, as it expands its mainline domestic operations.
The disclosure comes as it took delivery of its ninth 737 (VH-8JS), a former Singapore Airlines example that arrived in Brisbane on 22 September after a ferry flight from Singapore.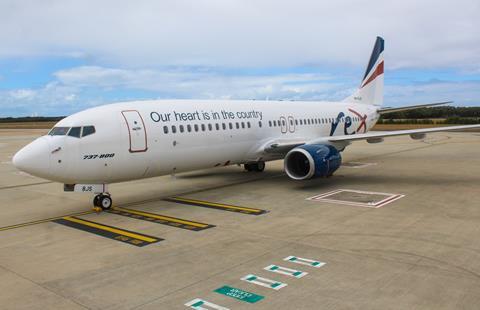 Rex says it intends to deploy its newest narrowbody on flights between Adelaide and Brisbane from 30 October, adding that the new aircraft "will allow Rex to further increase its domestic footprint across all the capital cities in Australia". The carrier received its eighth 737, also a former SIA example, in August.
The new delivery comes days after Rex announced network cuts to its regional network, blaming arch-rival Qantas for "relentless pillaging" of its pilot group.
The seven regional routes affected are intra-state flights in New South Wales state, and are on top of earlier cuts to its regional network announced in April. Still, the airline stresses it intends to restore all flying from end-March next year.
In a not-so-subtle jab at Qantas' latest woes, airline deputy chair John Sharp says: "We did not sell tickets for phantom flights in a bid to enhance cash flow. We also did not retrench any staff during Covid-19. On the contrary, we were aggressively recruiting for our domestic operation. We do not ever gouge our passengers even on routes where we are the sole operator and we do not squat on valuable airport slots by gaming the system."
Qantas is currently embroiled in a string of controversies, including the prospect of legal action from the country's competition watchdog over the alleged sales of tickets to already-cancelled flights.