South Korean low-cost operators T'way Air, Jin Air and Jeju Air continued a profitable streak in their third-quarter earnings, helped by strong international travel demand.
On a year-on-year basis, the three carriers swung back to the black on the back of a significant increase in revenues. They attributed the improvement to the easing of pandemic restrictions both within South Korea, as well as key markets like China and Japan.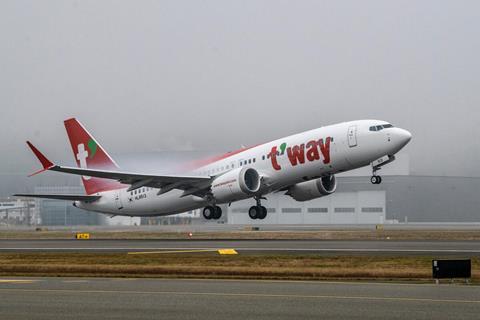 For the three months ended 30 September, T'way Air posted an operating profit of W33.5 billion ($25.6 million), improving on the W32.6 billion loss it posted in the year-ago period, and despite "unfavourable macro-environmental factors".
The carrier's revenues more than doubled year on year to W345 billion, as its operations surpassed pre-pandemic levels. T'way carried close to 1.5 million passengers systemwide during the quarter, a 26% jump on the passenger volume seen in the third quarter of 2019.
The airline's Southeast Asian and Japanese markets were the largest revenue contributors during the quarter, making up about two-thirds the carrier's revenue.
T'way reported a net profit of W14.3 billion, against a net loss of W57.6 billion in the year-ago period.
As for Jin Air, it swung to an operating profit of W32.7 billion, compared to the W17.5 billion loss in the year. 
Revenue for the quarter rose 85% year on year to W323 billion, with international revenues accounting for almost three-quarters of its takings. Like its compatriots, Southeast Asia and Japan markets made up a significant portion of Jin's revenue.
The sister unit of Korean Air reported a net profit of almost W92 billion, an improvement against the net loss of W101 billion last year.
Jeju Air, meanwhile, reported an operating profit of W44.4 billion, compared to the W61 billion loss in the year-ago period.
The carrier doubled its quarterly revenue to W437 billion, outpacing a 55% rise in costs to W350 billion.
Jeju Air carried 3.2 million passengers during the period, a year-on-year increase of about 64% as major markets reopen. On a quarter-on-quarter basis, Jeju reported a 20% rise in passenger revenues, while Japanese, Chinese and Southeast Asian markets seeing increased revenue.
In their outlook, the three low-cost carriers expect demand to continue through the year-end, particularly on Southeast Asia routes. Jin Air adds that Japanese flights are expected to remain popular given the weaker Japanese Yen.
The carrier also warns of "intensifying competition" on flights to Japan and Southeast Asia amid rising popularity.