Indian low-cost carrier SpiceJet will raise Rs25 billion ($336 million) to beef up its war chest against the coronavirus pandemic, which has battered its profitability.
The carrier discloses that the fundraising — subject to shareholder approval — will involve the placement of eligible securities to qualified institutional buyers.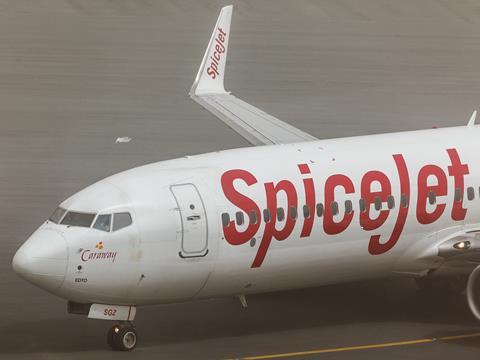 SpiceJet managing director and chairman Ajay Singh adds: "To ensure our long term growth and sustainable operation we have decided to raise funds of up to Rs25 billion. These funds will be used to significantly strengthen our balance sheet."
The carrier remained in the red for the year ended 31 March, reporting a net loss of nearly Rs10 billion. This compares with the Rs9.35 billion loss it posted in the previous financial year.
SpiceJet ended the financial year with slightly more cash and cash equivalents than it began the year with — at Rs296 million, compared to Rs282 at the start.
The pandemic-stricken year, in which India battled two massive infection waves, also meant that SpiceJet's revenue — particularly its passenger travel revenue — took a hard hit.
India ordered its airlines to halt all domestic passenger flights between late March and May 2020, as the country battled the first wave of coronavirus infections. While flights were allowed to resume "in a calibrated manner" thereafter, SpiceJet discloses that plans for a capacity ramp-up were thwarted following a second wave in March, at the close of its fiscal year.
Thus, combined revenue fell 54% year on year to Rs61.2 billion, with costs falling nearly 50% to Rs71.2 billion.
While passenger revenue — at Rs40.5 billion for the full year — fell nearly 67%, the carrier's cargo takings saw a dramatic rise, increasing sixfold to Rs11.2 billion.
SpiceJet's cargo business, which had ramped up operations ferrying medical supplies into India during its second wave of infections, was also in the black for the full year, reversing its losses posted in the previous financial year.
To this end, Singh discloses that the airline's cargo business will soon operate as a separate entity.
He adds: "In order to provide greater focus to cargo business and raise additional capital, we will hive off the cargo business to operate as a separate entity. The same will provide greater opportunity and flexibility in pursuing long term growth plan and strategies for the cargo business."
To further mitigate any financial impact on the airline, SpiceJet has also renegotiated operating contracts, particularly its lease commitments.
"Further, the company has assessed its liquidity position for the next one year, is in negotiations with lenders regarding deferment of dues and other waivers, and also assessed the recoverability and carrying values of its assets while preparing the standalone financial result as of and for the year ended 31 March 2021," SpiceJet discloses.
Singh points towards vaccination as a sign of optimism in the future, though he stressed that the airline is "extremely cautious" in its outlook.