Virgin Group founder Richard Branson says that the airline industry has endured past crises but could "come to a grinding halt fairly quickly" amid coronavirus outbreak risks.
The founder of numerous companies including air launch to orbit service Virgin Orbit and Virgin Atlantic Airways accepted an award from the Royal Aeronautical Society in Washington, DC, which Branson said was "interesting" timing because that same day stocks plummeted amid virus concerns.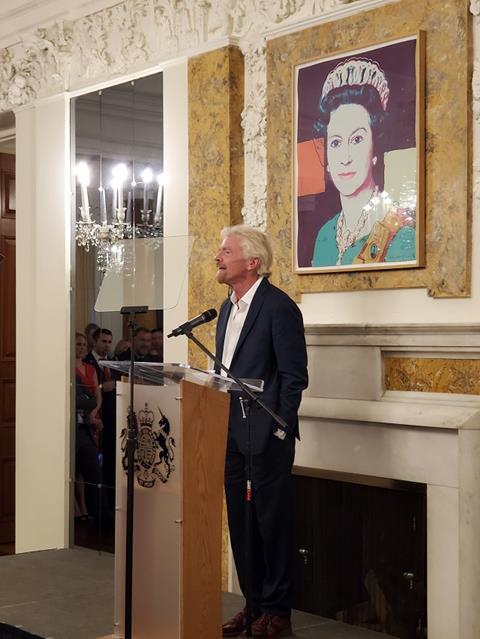 "I would beg people not to stop flying because the airline industry could come to a grinding halt fairly quickly if people are not brave enough to get on planes," he said 9 March at the event.
The US government has advised elderly passengers to reconsider attending large events or traveling on aircraft because that age group is most vulnerable to coronavirus. Branson advised people to "wash your hands, do the [fist] bump" and take other precautions rather than giving up on air travel.
Since founding Virgin Atlantic Airways and Virgin Cargo in 1984, Branson said his companies survived lack of demand following financial crises and the 11 September terrorist attacks, and "I'm sure we are going to survive this".
Travel related stocks have been hit particularly hard in recent days as governments seek to mitigate the spread of infection. The sharp decline in travel demand is rough for Branson, who said during his speech "Virgin's main businesses today are airlines, holiday companies, hotels, health clubs, cruise ships", leading the entrepreneur to joke "I wish I had diversified less!"
"All of our industries are in the front line of this virus," Branson said of his portfolio of companies.
To encourage people to book flights, Virgin Atlantic last week announced it will not charge fees to change bookings made prior to 4th March 2020 for travel during March. Tickets for Virgin's international network and codeshare flights issued between 4 March and 31 March can be changed for travel until 30 September 2020.
Numerous companies including American Airlines, United Airlines and Alaska Airlines have made similar flexible booking offers as travel options shift amid the coronavirus outbreak. Italy is the latest country to face travel restrictions as its government tries to contain the spread of infection.
Global lack of travel demand dealt the final blow to financially-troubled UK regional operator Flybe, which on 5 March ceased operations and entered administration. As one of the three investors in the Connect Airways - the consortium formed to take over Flybe a little more than a year ago - Virgin Atlantic had intended to develop the airline as a feeder for long-haul services under the Virgin Connect brand. The negative impact of coronavirus on air travel, however, led the group to pull funding from Flybe leading to its demise earlier this month.
Coronavirus is also adding to the financial problems of Virgin Australia, which Standard & Poor's has downgraded from stable to negative amid lack of demand for flights to China and other countries in Asia. The airline seeks to cut expenses by removing 400 jobs by the end of March and another 350 by June, along with reconsidering agreements with suppliers and cutting its capacity during the second half of 2020.
"The coronavirus outbreak is having a significant effect on the travel industry and we are also seeing weaker domestic and international demand," Virgin Australia chief executive Paul Scurrah said in a statement on 25 February.