Indian carrier Vistara has launched its second long-haul international destination from Mumbai, as Air India starts working more closely with fellow Tata Group unit AIX Connect.
Vistara will start a new six-times-weekly flight on the Mumbai-Frankfurt route from 15 November, operated with the Boeing 787-9. This is the carrier's second long-haul flight from Mumbai, adding to its five-times-weekly service to London Heathrow.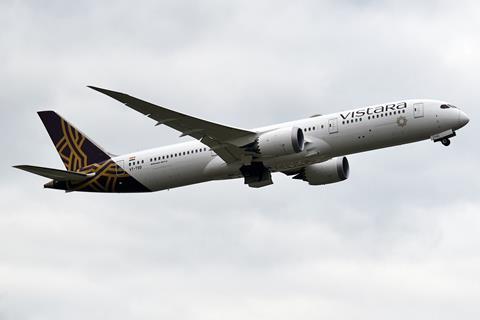 "We are delighted to expand our international network with the launch of this new service between Mumbai and Frankfurt," says carrier chief executive Vinod Kannan.
"Our long-haul routes, connecting Delhi with London Heathrow, Paris and Frankfurt have been very popular amongst our customers which gave us the confidence to offer similar connections from Mumbai as well."
The Star Alliance carrier, a joint venture between Tata Group and Singapore Airlines, is in the process of being merged with the Tata Group's Air India.
Air India, for its part, has set up a codeshare agreement with AIX Connect, a Tata Group carrier formerly known as AirAsia India, and which itself is being merged with Air India Express.
The codeshare will see Air India place its code on over 100 flights daily operated by AIX connect on 21 routes.
"The codeshare implementation enables Air India guests to connect seamlessly on AIX Connect's route network to and from over 80 points across Air India's extensive domestic and international network," says Air India.
Thai AirAsia has announced a new three-times-weekly direct service from Bangkok Mueang to the Indian city of Guwahati, which will commence on 1 December.
"Don Mueang-Guwahati is a completely new route for the carrier that came with exciting challenges," says Tansita Akrarittipirom, head of commercial at AirAsia Thailand.
Guwahati will be the low-cost carrier's ninth Indian destination.
In North Asia, South Korean low-cost carrier Jin Air will launch a new daily Busan-Tokyo Narita service on 29 October, operated with 737-800s.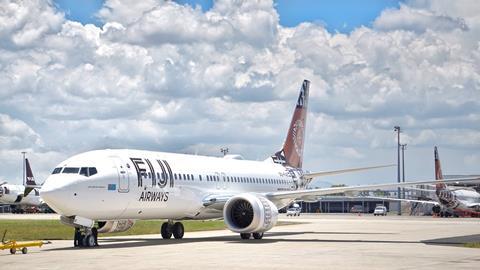 Fiji Airways has also confirmed that it will operate a new service from Nadi to the capital of New Caledonia, Noumea, under the auspices of an existing air services agreement with the French territory. The first flight will take place on 30 November, with regular twice-weekly services starting on 7 December.
"We at Fiji Airways are very excited about the prospects of this new route," says carrier chief executive Andre Viljoen. "Furthermore, thanks to our codeshare partners, we can connect New Caledonians to more than 100 destinations around the world."
SriLankan Airlines has also entered its first-ever interline partnership in a tie up with Virgin Australia. The carrier operates three-times weekly on the Colombo-Melbourne and Colombo-Sydney routes.
The interline will allow passengers to connect to Virgin Australia's domestic services.
Dimuthu Tennakoon, head of worldwide sales and distribution at SriLankan, says that Australia has a large Sri Lankan diaspora.
Srilankan says that since the launch of its Melbourne flight in October 2017 and its Sydney flight in June 2020, nearly 1 million passengers have flown with the carrier to Australia.