Charter aircraft provider Wheels Up has closed a deal under which it has secured $450 million in fresh financing from investment partners including Delta Air Lines.
Those partners are now set to own 95% of Wheels Up's stock. The operator went public in 2021 and has in recent quarters been bleeding cash.
The new investment will "support our strategy for financial stability, future profitability and long-term growth", Wheels Up's recently hired chief executive George Mattson said on 20 September, the day the New York-based company confirmed it had closed the investment deal.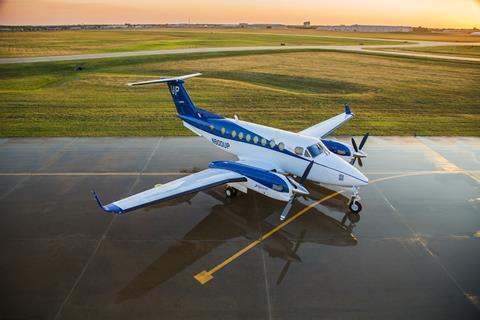 "We look forward to working closely with Delta and our other investors," adds Mattson. The agreement will "enable us to provide a one-of-a-kind seamless connection between private and premium commercial travel".
The $450 million in fresh financing includes a combined $350 million loan provided by Delta, Cox Enterprises, which owns media and automotive companies, and CK Wheels, which is owned by New York investment companies Knighthead Capital Management and Certares Management.
As part of the deal, Delta has also committed to provide Wheels Up with an additional $100 million in revolving credit.
The financing arrangement also permits a new lender to contribute another $50 million, which Wheels Up says it expects to secure "in the near term".
In exchange for the loans, Wheels Up will issue new shares such that the partners will collectively own 80% of the company's stock. After a stockholder approval, Wheels Up intends to issue more shares, bringing the investment partners' ownership to 95%.
Exactly how much of that will be owned by Delta remains unclear, though Wheels Up previously said the airline's share of the loan comes to $37.5%. Delta had owned 21% of Wheels Up prior to its latest cash infusion.
Separately, on 14 September, Wheels Up said it had hired Delta board member and longtime investment banker Mattson as CEO. He succeeds founding chief Kenny Dichter, who left the company in May.
Wheels Up went public in 2021 with great expectations, through a deal that valued it at $2.1 billion and raised $650 million. At the time, during the pandemic, demand for travel by private aircraft was surging.
But that demand has since waned, and Wheels Up's plan did not pan out.
The company lost $101 million in the first quarter of 2023, and $161 million in the second, as its revenue sank. Wheels Up ended June with cash and cash equivalents valued at $152 million, down from $586 million at the end of 2022.
Wheels Up sells memberships that provide customers with access to travel on private aircraft. It manages some 100 aircraft and has access to another 1,200, regulatory filings show.