Hot on the heels of their service entry last year, Embraer has introduced a clutch of enhancements to the cabins of its Praetor 500 and 600 business jets.
With sanitation and safety now a top priority for travellers due to the coronavirus pandemic, the midsize pair will now feature as standard a high-efficiency particulate air filter, which the Brazilian airframer says "improves air quality, capturing 99.97% of all particles, such as bacteria, viruses, and fungi".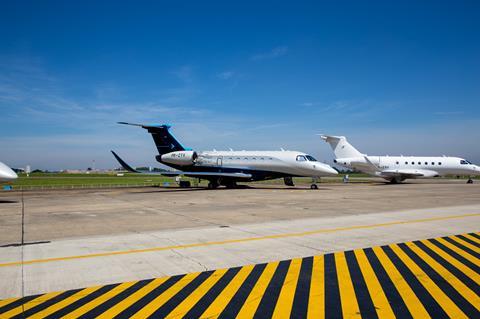 For added cleanliness Embraer has tested and approved an anti-microbial protective coating, known as MicroShield360. When applied to aircraft interiors, the product, kills nearly 100% of pathogens and, says Embraer, "continuously inhibits the growth of microbes on surfaces".
Embraer has also developed for the Praetors an electric lavatory pocket door which allows passengers to access and exit the toilet via "a touch of a button".
Certificated by the Brazilian, European and US aviation authorities in June, this optional feature is a first for the midsize business aircraft sector, says Embraer. Priced at $50,000, it will be available for retrofit from the fourth quarter on the 25 in-service Praetors and their Legacy 450 and 500 stablemates, of which there are nearly 140 in service.
Embraer says the Praetors are the only aircraft in the "medium cabin segment" to have the emergency exit door in the lavatory. This helps to deliver a "recognisably clean, quiet, and functional aesthetic, featuring minimised placards, temperature management, and noise reduction, thanks to the lack of an exit door cutout — plus full-seat and table functionality".
"The Praetors truly lead the way as the most disruptive and technologically advanced aircraft in their respective categories for features such as the best-in-class environmental control system and [5,800ft] cabin altitude," says Embraer Executive Jets president Michael Amalfitano. "In the context of the Covid-19 pandemic, the incorporation of new health and safety technologies is paramount, which is why we are proud to deliver even more value to Praetor customers with this series of cabin enhancements."