Shortages and rising prices of parts are among threats facing the business aircraft industry as the economy recovers from the pandemic.
That is the view of at least two chief executives of aircraft manufacturers who took part in a pre-recorded round-table at the EBACE Connect virtual event today.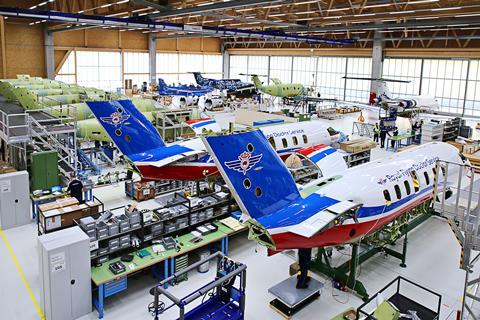 "We are starting to see inflation and the supply chain tightening," says Ron Draper of Textron Aviation, which owns the Cessna and Beechcraft brands.
He suggests that some suppliers are struggling to restore capacity after much of aviation was grounded during the first wave of Covid-19. They are also being hit by increasing costs of raw materials.
"As orders are picking up, the result is that inflation in the economy in general is hitting those metals," he says.
His counterpart at Swiss airframer Pilatus agrees. Markus Bucher maintains "supply chain disruption for two-and-a-half months" was "the biggest challenge" for his company at the start of the pandemic. "Now as we look to the future, the single biggest risk is the supply chain," he warns.
However, the leaders insist business aviation has weathered the crisis much better than its commercial counterpart, and remain optimistic.
Eric Martel, the new chief executive of Bombardier, which is now focused solely on business aviation, says reports of travelers switching loyalties from grounded airlines to private aircraft, most of them new to the sector, are accurate. "It's happening," he says. "I am confident that [business aviation] will attract new people and they will stay."
James Detwiler of Boeing Business Jets claims one million people travelled on private jets for the first time in 2020, and believes many of them will stick to the habit.
Gulfstream's Mark Burns says his company saw "a number of first time [aircraft] buyers" in the second half of 2020, and "this has continued into 2021". These flyers are appreciating the benefits of business aircraft, including a more relaxing cabin environment that makes jet lag less likely, and the ability to hold confidential discussions with colleagues, he says.
According to Michael Amalfitano of Embraer Executive Jets, one of the positive side effects of Covid-19 could be a more efficient regulatory environment. Agencies were forced to conduct remote inspections during the pandemic and discovered that they worked just as well in many cases, he claims, saving time and expense. "We think this is a trend that will likely continue," he says.
Dassault Aviation's Eric Trappier says a priority for all regulatory authorities should be a move towards "global standards", something that would drastically reduce the complexity of certificating a new type.