US start-up Surf Air Mobility reported during its first-ever earnings call a third-quarter loss of $74.6 million amid supply-chain constraints and limited aircraft availability.
For comparison, it posted a $21.1 million loss during the three months ending 30 September 2022.
The company said on 14 November that it lost about $140 million during the first nine months of 2023 as it works toward its long-term goal of electrifying a rapidly growing fleet of single-engine turboprops.
"In the long run, we expect electrification to become a significant tailwind to overall industry growth over time," says chief executive Stan Little.
The combination of consumer-facing travel brand and airline company reports generating $21.9 million of revenue on the third quarter, compared with $5 million during the same period last year.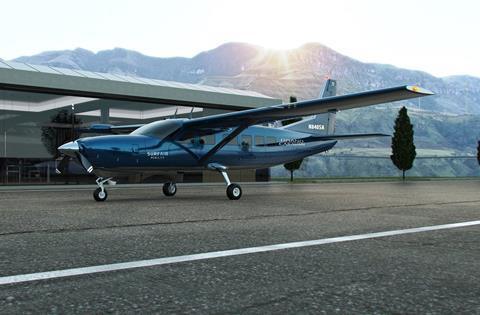 It was the Los Angeles-based company's first call with investors since becoming a publicly traded company in August, and after closing its acquisition of Florida-based Southern Airways Express and Hawaii-based Mokulele Airlines and ordering up to 150 Cessna Grand Caravans from Textron Aviation.
Surf Air expects Textron Aviation to deliver the first aircraft in April, and for a total of 11 Cessna Grand Caravans to arrive in 2024.
By retrofitting its growing fleet of existing turboprops with electric powertrains, Surf Air plans to become the first company to "bring electric aircraft to market and scale", Little says.
"We plan on expanding our air mobility network to maintain Surf Air's leadership position in our scheduled airline business," he says. "We will enable independent owner-operators to join our platform our off-fleet products. Core to that effort is continued investment in our software platform."
Surf Air says it is partnering with Palantir to develop AI-driven software for operators that will feature predictive modelling, customer personalisation and route optimisation.
Another core driver of its business model is fleet electrification.
"We continue to work on the long-term goal of implementing electrified aircraft across our network," Little says. "We're developing proprietary powertrain technology which will drive this evolution – lowering operating costs and driving growth for the whole regional air mobility market."
As with other start-ups in the burgeoning regional air mobility sector, Surf Air is banking on rapid advancements in battery technology and projected demand for short-haul air travel between underused airports.
Others in the space include fellow Southern California start-up Ampaire, which seeks to retrofit existing aircraft with its hybrid-electric propulsion systems, and Australia's Dovetail Electric Aviation, working on converting regional aircraft to full-electric power.
Surf Air believes it has an advantage over its peers by owning a pair of commuter airlines to roll out its in-development propulsion technology.
"Unlike our competitors in the electrification space, our strategy will enable us to quickly deploy new electrified aircraft into our already-established network to grow our market share and sustain our market leadership position in commuter air," Little says.
On the development of its electric propulsion systems, Surf Air is working with Magnix and AeroTec, the latter of which Little calls "a leader in the aerospace engineering certification space".
"Their team of 250 engineers and certification specialists have enormous experience in electric and other leading-edge propulsion technologies, especially in getting new aircraft technology through the certification process," he says.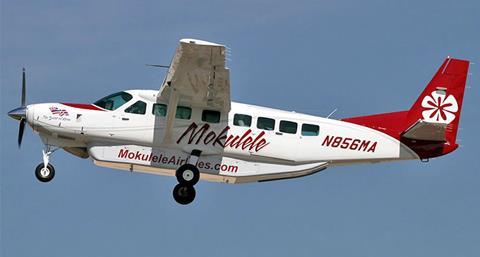 The company believes it has "identified the most expeditious path for obtaining FAA certification of electric aircraft", Little adds. "This starts with our decision to modify the Cessna Grand Caravan with a new powertrain. This pathway can shave years off the FAA review and approval process as compared to a newly designed airframe."
In the short term, the company has been struggling with supply-chain issues keeping some of its existing aircraft out of service. Southern Airways currently operates 43 Cessna Caravans, two Tecnam PC-12s and three P2012s, while Mokulele flies 11 Grand Caravans.
Surf Air expects the fleet to "return to normal operations" within the next couple of quarters.
"We have taken several substantial steps this quarter toward mitigating these issues," Little says, "including the purchase of multiple spare engines and the sourcing of critical parts from new suppliers… We do expect these actions to restore the majority of our out-of-service aircraft to revenue generation prior to the year end."
For the full year, Surf Air forecasts generating up to $60 million of revenue, citing supply chain issues and aircraft availability as limiting factors on growth.