SyberJet Aircraft has completed a series of key tests on its Honeywell Primus Epic 2.0-based SyberVision avionics suite for the SJ30i business jet, as it targets certification and service entry of the high-speed light-twin for early 2021.
The evaluations, known as aircraft control identification (ACID) tests, support the development of the SJ30i's new autopilot which SyberJet is developing jointly with Honeywell as part of the SyberVision suite.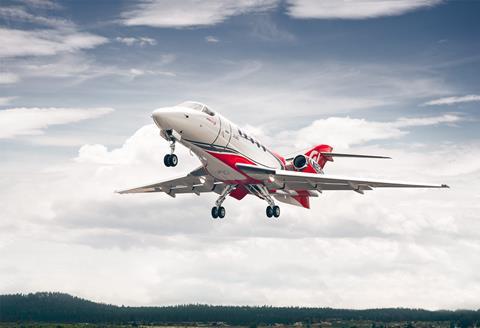 "The data collected through the ACID tests will be used by Honeywell to develop the initial gain settings, which will be used as the basis for autopilot tuning during flight testing [early in the second quarter]," says Mark Fairchild, SyberJet's vice-president, customer experience.
Flight testing of the SJ30i began in October 2019, and so far the test aircraft – registration N50SJ - has logged 55h at SyberJet's base in San Antonio, Texas.
As well as the bespoke autopilot, the SyberVision flightdeck also offers SmartView synthetic vision, a moving map display system, graphical flight planning and onboard weather radar, as well as dual flight management systems.
SyberVision also meets automatic dependent surveillance – broadcast out requirements, which became compulsory in the USA on 1 January and will be mandatory in Europe from 7 June. Integration of the flightdeck's new electric pitch-trim actuator, developed by Electromech Technologies in Wichita, "is also going well", says Fairchild.
The SJ30i is an upgraded version of the SJ30-2, which was certificated in 2005 by its former owner Emivest Aerospace. Four examples were delivered and remain in service.
SyberJet parent MTI, whose subsidiary, Metalcraft Technologies, was the aft fuselage supplier for the SJ30, acquired the programme in 2011.
Priced at $8.5 million, the Williams International FJ44-2A-powered SJ30i also features a redesigned lightweight interior.
Fairchild says SyberJet will log around 200h on N50SJ, and expects to secure certification for the six-seat aircraft in early 2021. "We will begin delivering SJ30is immediately after," he says.
The fleet will consist of the five unsold and incomplete units that MTI acquired from Emivest. Fairchild does not disclose how many of these units have been sold.
SyberJet is also working on the new standard version of the jet, to be powered by more fuel-efficient, higher-thrust FJ44-3AP-25 turbofans with dual FADEC controls.
Priced at $9 million, the SJ30x will provide a variety of performance benefits including higher cruise speed at altitude, faster climb, more payload, and better hot-and-high performance. Certification and service entry are pegged for 2023, says Fairchild.