After more than a year of silence, Textron eAviation has finally revealed the proposed design of its Nexus electric air taxi and intends to start building the initial prototype next year.
But despite offering a first glimpse of the size and shape of its urban air mobility vehicle, the airframer is in no rush to bring Nexus to market, foreseeing service entry around 2030 – at least five years behind some of its peers.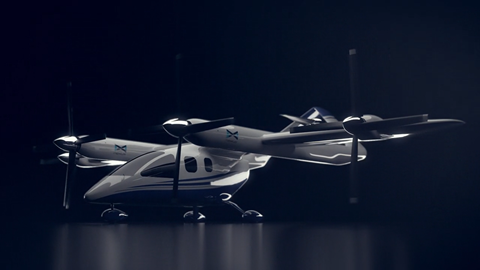 Originally conceived by sister company Bell in 2019, Nexus was first envisaged as a small hybrid-electric vehicle with six tilting ducted fans to provide lift and forward thrust. That then morphed into a full-electric aircraft, with two fewer ducted fans and a small wing to provide lift in forward flight.
But the latest iteration of Nexus – the first to be disclosed since the project transferred into Textron eAviation in 2021 - is a far cry from either of those designs: gone are the ducted fans, to be replaced by two fixed rotors mounted on the aircraft's twin tail-booms, augmented by four tilting rotors on the wing.
And, whereas the earlier designs were relatively compact, the new Nexus has grown substantially: it now boasts a 15m (50ft) wingspan and a maximum take-off weight in the region of 3,630kg (8,000lb) – up to 910kg heavier than previously. Despite the size, Textron eAviation is designing the vehicle to carry three passengers plus a single pilot on journeys of up to 100nm (185km) at a cruise speed of 120kt (222km/h).
But not only is the Nexus now bigger than its forebears, it is also larger than the electric vertical take-off and landing (eVTOL) designs being touted by both start-ups and aerospace giants – many of which are intended to offer similar, or better, performance and arrive on the market much sooner.
Assembly of the initial prototype is due to begin next year at Textron eAviation's site in Wichita, Kansas, leading to a first flight "in the next couple of years", says chief executive Rob Scholl.
He says the redesign of the Nexus was driven by the fact that "ultimately we have to meet a certain flight safety threshold and a certain economic threshold for our customers".
"Our bigger aircraft is largely a result of what we think is a pragmatic view of where battery technology is and where it's going [plus] the systems you have to wrap around it, given the experience we have with Pipistrel," he says, referring to the Slovenian light aircraft manufacturer that was acquired by parent company Textron in April and which now sits in the eAviation business.
"If you look at the aircraft structure, ours is going to be a little bigger - that reflects our experience with crash-test requirements and fatigue testing, to meet the standards of passenger travel."
Passenger comfort has also played a part in the aircraft's growth, says Scholl, who says the larger cabin may help customers come to terms with flying in a new kind of aircraft.
Scholl is also unconcerned that the Nexus will be later to market than the aircraft being developed by its rivals: for example, Vertical Aerospace intends to have its four-passenger VX4 enter service in 2025, while Airbus is working to a 2026 target for its CityAirbus NextGen.
"We think our design reflects a realistic aircraft that will ultimately be successful in the marketplace. So while some people might be able to get to the market a little bit earlier, we think we are building a pragmatic aircraft that will work in the marketplace for our customers."
He points out that significant hurdles remain to be overcome before such vehicles can enter the market at any scale, including regulatory, infrastructure, public acceptance, and technological issues.
On top of which, there are economic considerations for both manufacturers and operators, he says, notably around the pace of battery development and industrialisation.
"That affects both the manufacturing of the aircraft and the end operation because if it's wildly expensive to replace a battery system every six months because we are not building enough of these cells then that's an issue," says Scholl.
"It's not just the aircraft – someone has to scale up to produce the motors or actuators economically. When you are at the bleeding edge of technology, which a lot of an air taxi is, that's usually expensive, and so we have to work collectively to drive the technology forward."
Meanwhile, Pipistrel is continuing with its own product development. This includes a certificated version of its Panthera avgas/mogas-powered four-seater – to be followed at a later date by a hybrid-electric variant – and the Nuuva V300, a 300kg-payload, 300nm-range unmanned cargo drone that should make its maiden sortie in 2023.
Besides offering unique products in its own right, Pipistrel's work is contributing to the wider aims of the business, says Scholl, for instance designing the batteries on the Nexus.
"The learnings, the relationships that we developed from the other steps in the journey with the Pipistrel products will help us enable the Nexus programme," he says.

Dominic Perry is deputy editor of Flight International but also contributes extensively to flightglobal.com. Although specialising in the coverage of the helicopter industry, he has written on most topics in aerospace – be they commercial, defence or business aviation. In addition, there has been an increasing focus on the decarbonisation of the industry and zero-emission flight initiatives.
View full Profile