US flight instructors, flight schools, aviation museums, small airports and an array of associated businesses may be in for tough times as the coronavirus stifles aviation-related commerce.
The federal government has promised to help airlines and aerospace manufacturers weather the global crisis, but how smaller aviation businesses might fare remains an open question. General aviation airports are reporting sparse traffic, and businesses like flight schools have temporarily closed shop.
"Flight instruction is an unstable business," says instructor Cameron Lampert, who gets paid only for hours he teaches. The San Francisco Bay-area flight school at which Lampert works has closed due to the pandemic. "Now, it's all about minimising my costs."
General aviation trade groups are now urging the federal government to ensure their members are not left out of pending aid packages. The US airline industry has requested some $58 billion in aid.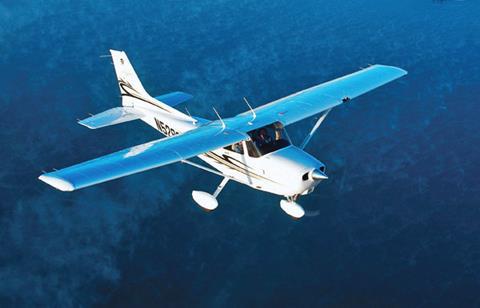 On Tuesday, five such associations called for the US government to support aircraft charter companies and operators of fractionally owned aircraft.
"Due to the nature of the COVID-19 pandemic, there is currently no certainty as to when economic conditions will improve, which threatens the survival and prospects of thousands of general aviation businesses," says the letter. "Programmes that would provide the most support to our industry include medium- to long-term liquidity assistance and relief from air transportation excise taxes."
Groups to sign the letter include Helicopter Association International, National Business Aviation Association, Aircraft Owners and Pilots Association (AOPA), National Air Transportation Association, General Aviation Manufacturers Association and Experimental Aircraft Association.
US President Donald Trump says on 17 March the government is also pursuing legislation to support small businesses, though the degree to which such aid might benefit small aviation companies remains unknown.
"We are committed to getting small businesses the support that they need," Trump says.
In the San Francisco Bay Area, where six counties have implemented "shelter in place" orders until 8 April, aviation-related businesses are bracing for a hard hit. More than 6.5 million people are affected by the order.
Many airports are open, but some businesses, like flight schools, have closed.
"We are fully functional and operational. But there's not a lot of general aviation. People are just staying home," says a representative for Palo Alto airport who asked to remain anonymous. Palo Alto airport is close to Stanford University's campus in Silicon Valley.
Flight instructor Lampert, who works out of Hayward Executive airport south of Oakland, says area airports will likely stay open, even if they don't see much traffic. "If you fly from Modesto to Hayward, you need to be able to expect air traffic control service when you get to Hayward."
There also remains confusion as to what "shelter in place" means for general aviation. Some pilots intend to continue flying, saying that, alone in the cockpit, they would be adhering to "social distancing" requirements.
Others disagree.
"Unless you're transporting someone to the doctor/ER or delivering medicine/essential supplies, GA flying is not an essential activity," John Ewing, a flight instructor and designated pilot examiner tweeted on 17 March.
General aviation events and shows around the world, such as Aero Friedrichshafen in Germany, and Sun 'n Fun in Lakeland, Florida, both scheduled for April, have been cancelled or postponed.
Pilots' lobby group AOPA is cancelling its own public events, including fly-ins, workshops and training sessions. Many aviation museums will be temporarily closed through the crisis period, AOPA says.