Californian propulsion developer ZeroAvia has conducted what it claims is the UK's "first electric-powered flight of a commercial-scale aircraft", with a converted Piper M350 piston-single taking off on 22 June from Cranfield airport.
The six-seat hydrogen-electric-powered aircraft is also Europe's largest zero-emission aircraft currently flying, says the Hollister-headquartered firm. It is now preparing the aircraft for a 300nm (560km) flight late in the third quarter from the Orkney Islands, off Scotland's north coast.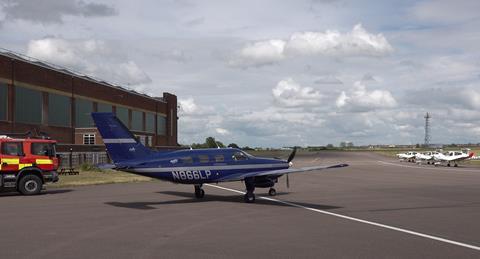 The flight trials of the M350 are part of the UK government-funded HyFlyer project, which aims to replace conventional engines in medium-sized propeller-driven aircraft for regional airline operations with zero-emission propulsion systems.
This initiative is supported by £2.7 million ($3.3 million) of funding through the government-backed Innovate UK and Aerospace Technology Institute programmes.
For the UK trials ZeroAvia has replaced the M350's Lycoming piston engine with a powertrain comprising electric motors, hydrogen fuel cells and hydrogen gas storage.
The firm describes the debut flight as "a significant milestone both for the UK's net zero and green aviation ambitions, and for ZeroAvia on the journey to demonstrating long-distance zero-emission flights in large aircraft".
Developing sustainable business and commercial aircraft is a major technological challenge, but a vital one given that the aviation sector accounts for around 2% of global greenhouse gas emissions.
ZeroAvia says it aiming to have a 10- to 20-seat commercial hydrogen-electric aircraft "ready for take-off on 500nm regional flights" within three years, by demonstrating powertrain technology that can replace conventional fossil fuel engines.
A 50- to 100-seat zero-carbon aircraft "could be ready" by the end of the decade, while a 200-passenger, 3,000nm-range airliner powered by hydrogen fuel cell technology could arrive by 2040 "without requiring any fundamental scientific breakthroughs".
ZeroAvia believes hydrogen fuel cells are more suitable for zero-carbon flight than batteries alone due to weight and operating cost considerations. This will make them more viable for commercial operations at a much larger scale in the a shorter timeframe.
Val Miftakhov, ZeroAvia's founder and chief executive, describes the debut flight as "the latest in a series of milestones that moves the possibility of zero-emission flight closer to reality".
The company has been flight-testing the hydrogen-electric powertrain at its US base since last year in another M350, and has obtained experimental US Federal Aviation Administration certification for the research platform.
Miftakhov says there is strong desire for the aviation industry to emerge from the coronavirus pandemic "on a firm footing, to be able to move to a net-zero future, with a green recovery".
That will not be possible, he adds, "without realistic, commercial options for zero-emission flight, something we will bring to market as early as 2023".