The British Antarctic Survey (BAS) is gearing up for the start of a three-month trial early next year of a new uncrewed air vehicle (UAV) for surveying missions, as the organisation pushes to "do more science at lower cost".
Part of a £4.7 million ($5.7 million) project called Swarm – 65% funded through the UK government's Future Flight Challenge (FFC) – the initiative will see BAS operate a Windracers Ultra UAV from Rothera Research Station from January to March 2024.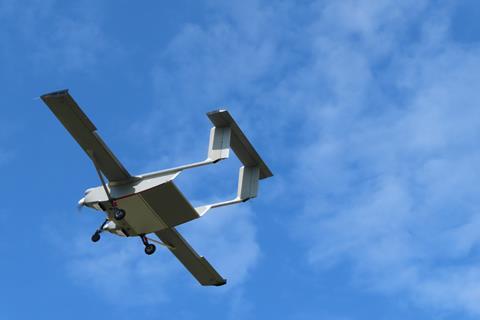 Capable of carrying a 100kg (220lb) payload over distances of up to 540nm (1,000km), the fixed-wing Ultra will be equipped with a suite of modular sensors to enable BAS to carry out a broad spectrum of research.
"At BAS, we are changing our approach to science by increasing the use of autonomous platforms, such as UAVs and autonomous underwater vehicles, to collect data," said Dr Dominic Hodgson, interim science director, at a 30 October event at the organisation's Cambridge headquarters.
"By deploying unpiloted platforms, such as the Windracers Ultra, BAS has the potential to scale up airborne science and accelerate research, given the dramatic increases in flight time and geographic coverage that these enable''.
BAS currently performs aerial surveying missions using a small fleet of De Havilland Canada DHC-6 Twin Otters. But it believes the introduction of the Ultra will offer significant cost and environmental benefits.
"We hope to prove that this platform is really capable of taking up some of the heavy lifting of scientific observation in Antarctica," says Dr Tom Jordan, science lead for the Swarm project.
"We think we will be able to do more science at a lower cost, with a lower carbon footprint and with a lower logistical footprint."
Fuel consumption for the petrol-engined Ultra is around 11 litres per hour, compared with 300 litres per hour for a Pratt & Whitney Canada PT6-powered Twin Otter, yielding a reduction in CO2 emissions per flight hour of around 90%, BAS calculates.
But the CO2 saving is not solely due to the lower fuel consumption: the Ultra will fly autonomously – monitored from the UK by a supervisory pilot – and has a lower maintenance requirement than the Twin Otters. All this means "less long-distance travel" for personnel or parts, says Carl Robinson, UAV/drones lead at BAS.
Although the organisation has been operating small multicopter drones for several years, the arrival of the Ultra is BAS's "first chance to use a very capable uncrewed aircraft", adds Robinson.
Originally designed for humanitarian relief missions, the 10m (32ft)-wingspan Ultra features a twin-boom configuration with a high T-tail to allow easy access to the 700-litre cargo compartment.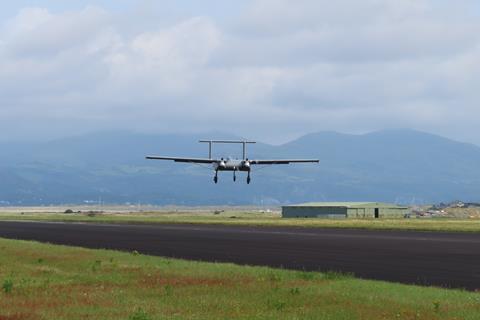 The Ultra is built from aluminium rather than composite as it is "very damage tolerant and very efficient to fabricate", says Stephen Wright, Windracers co-founder and company chair.
"It's also quite a lot cheaper – the more we spend on the aircraft the less we [have to] spend on the science or aid delivery."
Wright says the Ultra is priced at around one-tenth of competing products, which can cost up to $8 million.
Systems are dual or triple redundant and the aircraft is sufficiently robust to operate from dirt or ice runways down to 100m in length, adds Rebecca Toomey, airworthiness lead at Windracers.
The Ultra's autonomous flight-control system has been developed by Windracers' sister company Distributed Avionics, and includes an automated take-off and landing capability. Power comes from a pair of 627cc four-stroke engines from US firm Briggs & Stratton.
While currently lacking an anti-ice system, the Ultra is fitted with sensors to detect icing conditions, says Toomey.
However, operations in the Antarctic are less likely to encounter the issue due to its dry and cold climate, she notes. "To be honest, there was greater icing risk in flights from Orkney."
Those flights, carried out from Kirkwall airport and in Shetland in 2021 and 2022, were part of earlier FFC-backed projects to prove the viability of using drones for logistics services in the Scottish Islands.
To date, Windracers has built 10 Ultra aircraft – the second example is currently en route to the Antarctic – but has plans to set up a UK production facility capable of turning out 10 units per month.
Its metallic structure is built in India by an undisclosed partner, before being shipped to the UK for final assembly.

Dominic Perry is deputy editor of Flight International but also contributes extensively to flightglobal.com. Although specialising in the coverage of the helicopter industry, he has written on most topics in aerospace – be they commercial, defence or business aviation. In addition, there has been an increasing focus on the decarbonisation of the industry and zero-emission flight initiatives.
View full Profile