China has deployed a variant of the AVIC Wing Loong II unmanned air vehicle (UAV) to help create precipitation in the country's arid west.
The UAV, designated Ganlin-1, is equipped to modify weather through cloud seeding, according to a report by official news agency Xinhua.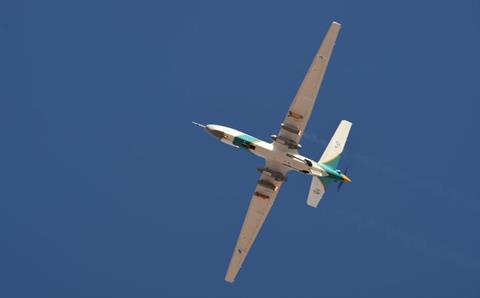 During a maiden flight recently the aircraft flew 40 minutes, performing "atmospheric detection and catalyst spreading to generate precipitation." The UAV was also able to de-ice itself.
The UAV was developed by Gansu Meteorological Bureau, the Chengdu Aircraft Design and Research Institute of AVIC, and AVIC (Chengdu) Unmanned Aircraft System Company.
Separately, AVIC says that it exported the 50th Wing Loong II UAV in December 2020, although it did not name the client.
Saudi Arabia, Turkmenistan, and Egypt are known to be customers for the UAV.
The Wing Loong II has a maximum take-off weight of 4,200kg (9,260lb). An AVIC flyer for the type shows it carrying 10 air-to-ground munitions, with four mounted on dual racks. Sensor payloads include an electro-optical surveillance/targeting system and a synthetic aperture radar.