Airbus Defence & Space has detailed its success with conducting a first flight of the A400M tactical transport using a partial sustainable aviation fuel (SAF) load earlier this year, and announced plans to expand the trials activity to its other platform types.
During a July flight conducted from the airframer's San Pablo final assembly site near Seville, Spain, test aircraft MSN4's number 2 Europrop International TP400-D6 turboprop engine was operated using a mix of its ordinary Jet A1 fuel with 29% SAF, manufactured via the HEFA (Hydroprocessed Esters and Fatty Acids) process.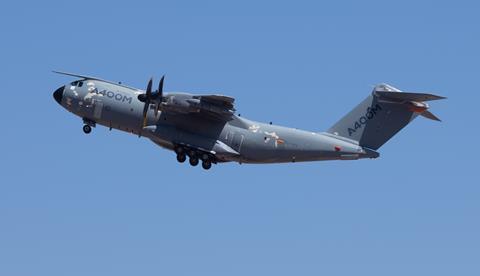 "It is a drop-in fuel, so there is no need to modify the engines' systems and there are no technical limitations," notes Ana Belen Blanco, technical leader for SAF on the A400M programme.
"The results we got confirmed that using this blended SAF does not affect engines or aircraft performance, so the A400M can receive the whole potential of it in terms of environmental benefit," says flight test engineer Cesar Gonzalez. The roughly 1h flight provided "a very good opportunity to compare the performance of the different fuels", he adds.
"Following its successful performance, A400M operators can now fly using a load of up to 50% certified blended SAF," the company says. "Furthermore, Airbus, OCCAR and the A400M nations are engaged in initial discussions to develop the roadmap towards the certification and operational use of 100% SAF."
"Our operators had expressed their willingness to use SAF in their military operations, and we are here to respond to their needs," says Rocio Gutierrez Alonso, Airbus Defence & Space's chief engineer for the A400M powerplant. The company earlier this year outlined plans to work with the German air force to trial a 50% SAF mix for its A400M fleet.
"More flight tests with SAF are planned for the coming months for the C295 and the A330 MRTT [multi-role tanker transport], which will soon join the A400M in this fascinating race towards sustainable military aviation," Airbus says.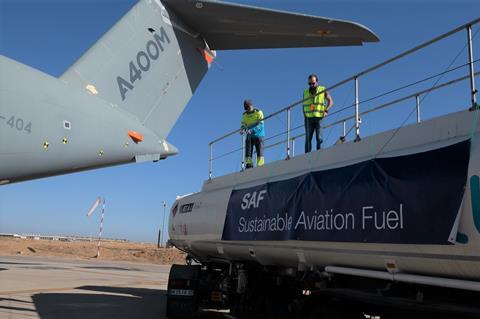 Meanwhile, the company notes that test aircraft MSN4 – nicknamed "Grizzly 4" – is poised for retirement, after accumulating almost 2,000 flight hours. First flown in December 2010, the aircraft's debut use of SAF marked its 994th of a planned 1,000 flights.

Craig Hoyle joined Flight International in 2003, and has edited the now monthly title since 2015. He has reported on the UK, European and international military aviation sector for more than 25 years, and produces our annual World Air Forces directory.
View full Profile