Canberra will acquire an additional pair of Boeing P-8A Poseidon maritime patrol aircraft, which will boost its fleet of the type to 14 examples.
The acquisition is part of the government's plan to invest A$270 billion ($205 billion) in defence capability in the 2020s, says defence minister Linda Reynolds.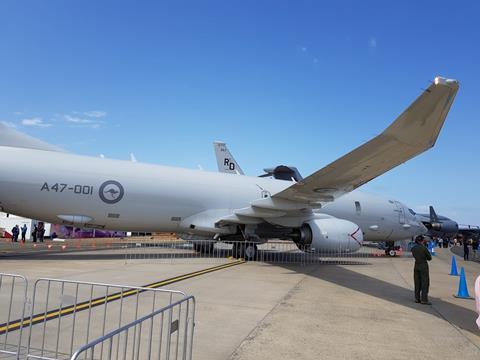 In addition, sustainment funding has been approved for three Northrop Grumman MQ-4C Triton unmanned air vehicles, which have yet to be delivered.
"Together, the Poseidon and the Triton will provide Australia with one of the most advanced maritime patrol and response capabilities in the world," says Reynolds.
"The Poseidon is a proven capability that will conduct tasks including anti-submarine warfare, maritime and overland intelligence, surveillance and reconnaissance, and support to search and rescue missions. These additional aircraft will enhance [the] air force's flexibility to support multiple operations and will play an important role in ensuring Australia's maritime region is secure for generations to come."
Cirium fleets data shows that the Royal Australian Air Force's fleet of 12 P-8As has an average age of three years.
In addition, it held letters of intent for three P-8As, two of which appear to have been exercised for the new acquisition.