BAE Systems has performed a first stratospheric flight with the PHASA-35 high-altitude pseudo-satellite (HAPS), marking a new milestone for the unmanned air system (UAS).
In development since 2018 by Prismatic – a company acquired by BAE in 2021 – the solar- and battery-powered aircraft achieved an altitude of more than 66,000ft during a 24h sortie in late June.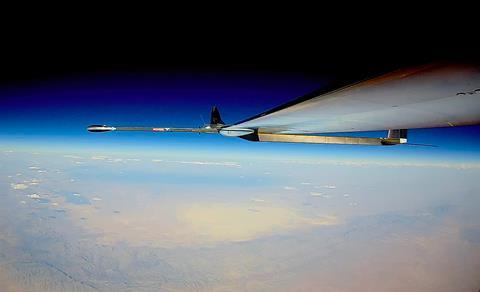 Conducted from Spaceport America and operating above the White Sands Missile Range – both in New Mexico – the mission allowed engineers to assess the PHASA-35's performance at high altitude.
"The team are analysing all the data, but what we can say is that the aircraft performed exactly as we expected, and in many areas it exceeded expectations," says Phil Varty, BAE's business manager – UAV systems.
Funded by the US Army Space and Missile Defense Command Technical Center, the milestone flight was the first in a series of tests planned to confirm system performance and support development as BAE looks to commercialise the platform for civil and military applications.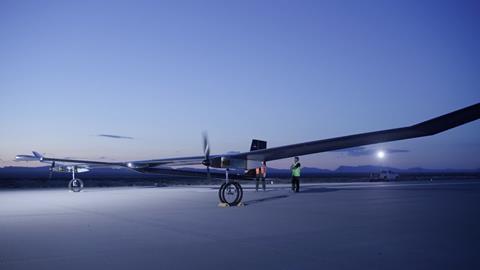 Boasting a 35m (115ft) wingspan, the 150kg (330lb) PHASA-35 can carry a 15kg payload. Its manufacturer sees potential uses as an ultra-long-endurance intelligence, surveillance and reconnaissance platform, or communications relay.
"This is a fantastic achievement for everyone involved and shows the commitment of BAE Systems to invest in new technologies and markets," says Dave Corfield, Prismatic chief executive.
"PHASA-35's first stratospheric flight demonstrates that this vehicle is on track to become the go-to system for long endurance, high altitude and communication applications in the future."
Speaking at the Royal International Air Tattoo at RAF Fairford in the UK on 14 July, Varty noted that the PHASA-35 uses a stronger and stiffer airframe than rival systems, meaning that it is less affected by weather conditions while transiting through the troposphere. The air vehicle flies at roughly 50kt (92km/h) and climbs at a rate of around 1ft per second.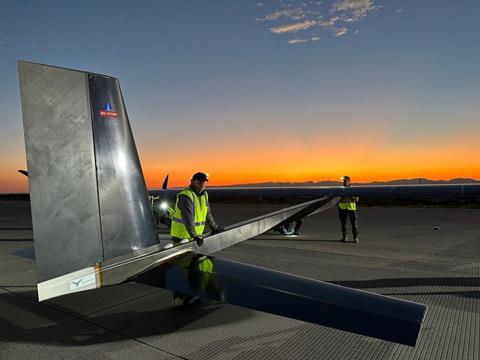 "What we are trying to do is demonstrate the model," Varty says, adding that "it carries twice the payload and can fly more often" than competing designs such as the AALTO Zephyr.
Varty says entry into service for the system could be achieved within "a couple" of years, following additional and longer-endurance testing.
Additional reporting by Dominic Perry

Craig Hoyle joined Flight International in 2003, and has edited the now monthly title since 2015. He has reported on the UK, European and international military aviation sector for more than 25 years, and produces our annual World Air Forces directory.
View full Profile