Boeing Defense, Space & Security incurred a fresh $245 million pre-tax charge against the KC-46A tanker programme in the first quarter, as manufacturing issues disrupted deliveries of the 767-based type.
Detailing the measure within a first-quarter results announcement on 26 April, the US airframer says the cost penalty was "largely driven by the previously shared supplier quality issue resulting in factory disruption and rework".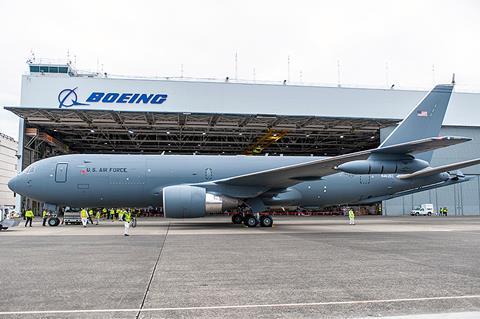 The company in late March resumed 767 deliveries following an interruption caused by a "quality issue" affecting undisclosed components used on the KC-46A and commercial freighter-variant -300ER models.
Boeing's delivery information for the first quarter shows that it handed over one KC-46A and one commercial freighter, down from four and five, respectively, during the same period in 2022.
"Results also include the continued operational impact of labour instability and supply chain disruption on other programmes," Boeing says, without elaborating.
Its defence unit reported first-quarter revenue of $6.5 billion, representing a 19% increase from just over $5.48 billion in the same period a year earlier.
Boeing delivered a total of 39 military aircraft in the first three months of this year, including the lone KC-46A. It also handed over 20 AH-64 Apaches (13 remanufactured and seven new), seven F/A-18-model fighters, six CH-47 Chinooks (including one "renewed" example), three P-8A maritime patrol aircraft and two F-15s.
The defence unit's backlog at the end of the first quarter stood at just over $58.1 billion.

Craig Hoyle joined Flight International in 2003, and has edited the now monthly title since 2015. He has reported on the UK, European and international military aviation sector for more than 25 years, and produces our annual World Air Forces directory.
View full Profile