China's recent aerial intrusions against Taiwan involve a diverse mix of assets, including carrier aviation and a strong emphasis on anti-submarine warfare (ASW).
In the 24h to 06:00 local time on 11 April, Taiwan detected a record-setting 91 Chinese aircraft, of which 54 crossed the median line in the Taiwan Strait that divides the two countries, or entered Taiwan's Air Defense Identification Zones (ADIZs), according to Taipei's Ministry of National Defense (MND).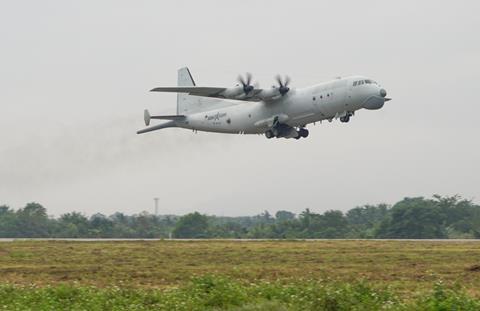 The surge in Chinese activity was the culmination of 72h of Chinese air and sea incursions, as Beijing vented its rage following Taiwan president Tsai Ing-wen's meeting with US House Speaker Kevin McCarthy in California on 5 April.
Of the 54 ADIZ incursions, the majority were fighters approaching from the Chinese mainland, specifically 10 Chengdu J-10s, 10 Shenyang J-16s, two Shenyang J-11s, and eight Sukhoi Su-30s. These appear to have flown up to the median line and briefly crossed over before turning back.
Uniquely, Taiwan also recorded 15 Shenyang J-15s off its east coast, operating from the Chinese aircraft carrier CNS Shandong. In the previous 24h period to 06:00 local time on 10 April, four J-15s had been detected in the same region.
Taiwan's MND offered its stock response: "[Republic of China] Armed Forces have monitored the situation and tasked [combat air patrol] aircraft, navy vessels, and land-based missile systems to respond [to] these activties."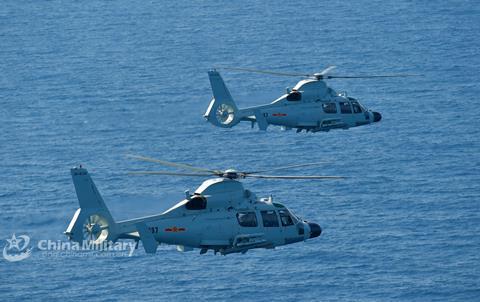 Japan's Ministry of Defense (JMOD), which also monitored Shandong's movements, reported that over three days the carrier launched about 80 fixed-wing and 40 helicopter sorties.
Beijing dubbed the 8-10 April exercise "Joint Sword" to reflect its incorporation of multiple forces – air, ground, and naval – operating "under real combat conditions".
"The troops of the PLA [People's Liberation Army] Eastern Theatre Command are well prepared to fight at all times and will resolutely crush separatist attempts for 'Taiwan independence' and foreign interference in any form," says China's defence ministry.
Beijing considers democratically governed Taiwan to be part of Chinese territory.
While representing a considerable show of force, "Joint Sword" was somewhat pared back from the exercises Beijing conducted in August 2022, after former US House Speaker Nancy Pelosi visited Taiwan. In addition to large aerial incursions, the August activity also saw missiles fired into the waters around Taiwan and its northern neighbour, Japan. The disruptions to air traffic and shipping greatly rattled the region's governments.
Aerial incursions against Taiwan, already commonplace before the Pelosi visit, subsequently increased in frequency, with Chinese aircraft frequently crossing the median line.
MND data suggests that in 2023 so far, China has mounted 518 ADIZ/median line incursions. Overall, Taiwan has detected 1,349 Chinese aircraft near its airspace. While Taiwan identifies aircraft types and numbers for ADIZ/median line incursions, it does not do so for overall detections. Some days, no aircraft are detected.
While 73% of 2023's ADIZ/median line sorties have involved fighters, 14% have involved support aircraft. By a considerable margin, the most widely dispatched Chinese support aircraft is the Shaanxi Y-8Q ASW aircraft, which accounts for 40 of China's 48 support sorties – other support aircraft spotted included electronic warfare and reconnaissance variants of the Y-8, as well as the Shaanxi KJ-500 airborne early warning and control (AEW&C) aircraft.
The Y-8Q ASW flights are almost invariably south/south east of Taiwan, which incorporates the Luzon Strait, a critical passage for submarines and warships travelling between the Pacific Ocean and South China Sea.
The prevalence of ASW-roled Y-8Qs makes it clear that Beijing places a high priority on monitoring surface and subsurface activity in this region. ASW is considered a weak spot in Chinese capabilities, a particular challenge considering the advanced submarines operated by potential rivals, namely the US Navy and Japan Maritime Self-Defence Force.
In early April, Taiwan also spotted a Kamov Ka-28 ASW helicopter – likely operating from a Russian warship – to the southwest.
More intriguingly, in late March a Harbin Z-9 ASW helicopter – a derivative of the Airbus Helicopters AS365 Dauphin – made several ADIZ incursions due east from Taiwan, all but certainly flying from a Chinese warship. While the JMOD did not detail the activities of the 40 helicopters launched from Shandong during the 8-10 April exercise, it can be certain that some of these sorties focused on ASW. In the carrier-based ASW role, the People's Liberation Army Navy deploys the Z-8, which is based on the SA321 Super Frelon.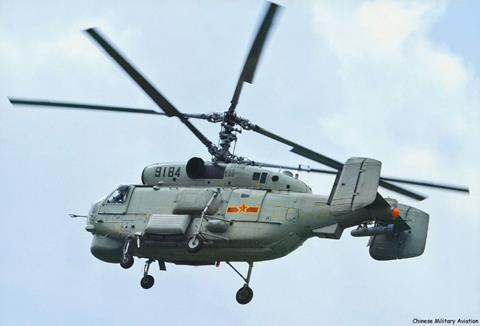 Chinese naval aviation activity off Taiwan's east coast lends validity to recent remarks by US Air Force General Kenneth Wilsbach. In a March discussion with the Mitchell Institute, the Pacific Air Forces commander contended that in a conflict over Taiwan, Beijing would likely deploy surface combatants in the sea east of Taiwan, as part of its overall A2/AD (anti access/area denial) strategy.
In a conflict, any Chinese naval force operating east of Taiwan would be unable to fully rely on mainland-based airpower. Instead it would require extensive integrated ASW capabilities to defend against submarines, along with aircover afforded by J-15s. For AEW&C, the PLAN's two active carriers – Liaoning and Shandong — operate the Z-18J helicopter, which incorporates a retractable active scanned array radar.
Plans for operations east of Taiwan underline the importance of Beijing's third carrier, CNS Fujian, which has yet to be deployed. When operational, its electromagnetic launch system will be able to launch the Xian KJ-600 AEW&C aircraft, which is likely to offer far better situational awareness than the Z-18J.