UK military light jet developer Aeralis has named its first test aircraft 'Phoenix', following a contest opened up to the Royal Air Force's (RAF's) Air Cadets organisation.
More than 800 names were proposed during the start-up's 'Mission 001' competition, with the final selection made by a judging panel of senior Aeralis and RAF personnel. Their choice – which had been suggested 15 times by cadets – "most represented the spirit and ambition of the first Aeralis aircraft", the company says. One entrant was picked at random to be the winner.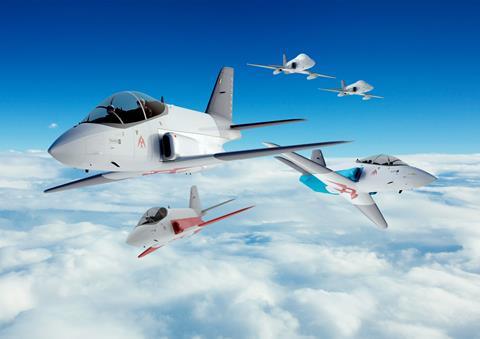 "Aeralis has been closely engaged with the Air Cadets over the past year, attending their National Air and Space Camp to talk with young aviation enthusiasts about the future of British aerospace design and manufacture," the company says. It describes its ambition as to keep the "future aviation talent of tomorrow engaged with the next generation of British aviation".
"Phoenix is a superb name for our first test aircraft, and we look forward to welcoming the winner to our facility in Bristol," says Aeralis chief executive Tristan Crawford.
The company has designed a modular family of military aircraft around a common core fuselage concept. Its first product will be a single-engined advanced jet trainer, a pre-production example of which is expected to fly for the first time during 2026. Service entry is targeted before the end of this decade.
Other roles being eyed by the developer include basic training, aggressor services, intelligence, surveillance and reconnaissance, and electronic warfare.

Craig Hoyle joined Flight International in 2003, and has edited the now monthly title since 2015. He has reported on the UK, European and international military aviation sector for more than 25 years, and produces our annual World Air Forces directory.
View full Profile