The first Boeing KC-46A tanker for the Japan Air Self-Defense Force (JASDF) has conducted its first air-to-air refuelling activity, and received fuel as well.
The work took place over Washington state, and also involved a US Air Force (USAF) KC-46A, which both received from and delivered fuel to the Japanese aircraft, says Boeing.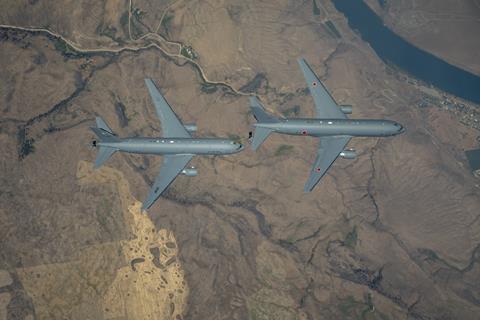 "Refuelling with the first Japan KC-46A is an important milestone for the Japan Air Self-Defense Force," says KC-46 programme manager Jamie Burgess.
"KC-46A is the world's most advanced air refuelling aircraft and has already transferred more than 42 million gallons of fuel to other aircraft globally through its boom and drogue systems."
Boeing adds that Japanese industry produces 16% of the KC-46A's airframe, and that Tokyo's second KC-46A is already in production.
In December 2017, the USAF contracted Boeing for Japan's first KC-46A under the US government's Foreign Military Sales programme. In November 2020, Boeing secured an additional USAF contract for Tokyo's third and fourth examples.
The refuelling work with the JASDF's first 767-derived KC-46A follows the jet's maiden sortie in February.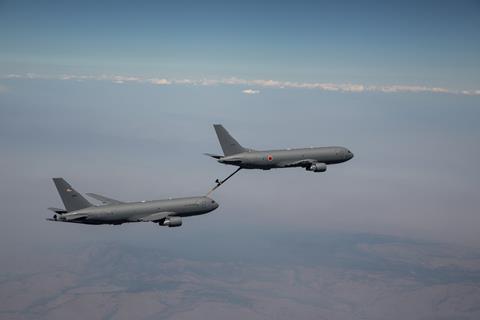 Tokyo elected to order the KC-46, a derivative of the 767 airliner, in October 2015.
Initial plans had called for the JASDF to field three KC-46s in 2020, but issues with the programme pushed back the delivery date.
The aircraft will supplement the service's four KC-767 tankers.
Cirium fleets data shows that USAF has 48 KC-46As in its inventory, out of a total requirement for 179 examples. Israel has also signed a letter of acceptance for eight examples, becoming the type's second international customer.