Boeing has delivered a key training device to support personnel operating the UK Royal Air Force's (RAF's) 737NG-based P-8A Poseidon MRA1 maritime patrol aircraft fleet.
Manufactured by training specialist CAE, the operational flight trainer (OFT) was flown from Orlando, Florida, to Glasgow Prestwick airport in Scotland, using an Antonov Airlines-operated An-124 (UR-82007).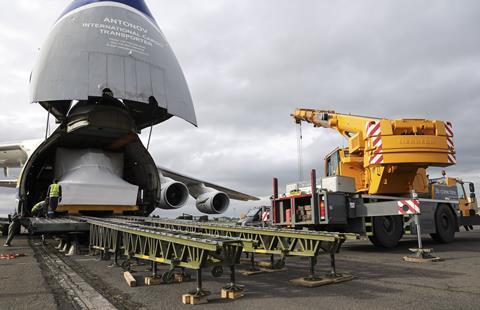 The UK's Defence Equipment and Support (DE&S) organisation notes that the commercial freighter was employed because the OFT's "width and height make it too big to be transported by any RAF aircraft", including its Boeing C-17 strategic airlifters. Weighing 9.5t, the device is 4.01m (13ft 2in) wide, 3.73m high and 7.39m long. It was transported by road for the remainder of its journey to RAF Lossiemouth in Moray.
One of two such devices ordered for the RAF, the OFT will be used to train Poseidon pilots. These devices also can be networked with a pair of rear-crew trainers used by mission system operators.
"The simulators will allow for more complex training of multiple operational scenarios in a structured setting and reduce the cost of carrying out live, in-flight training," Boeing says.
The equipment will be housed within a £100 million ($132 million) strategic facility, now being completed by Boeing Defence UK. This "also will hold numerous other training devices, three Poseidon aircraft, accommodation for three squadrons and mission support facilities", the company adds.
Temporarily being flown by 120 Sqn personnel from RAF Kinloss while infrastructure work nears completion at Lossiemouth, the UK's Poseidon fleet will grow from a current pair of maritime patrol and anti-submarine warfare assets to a nine-strong fleet operated by two frontline squadrons.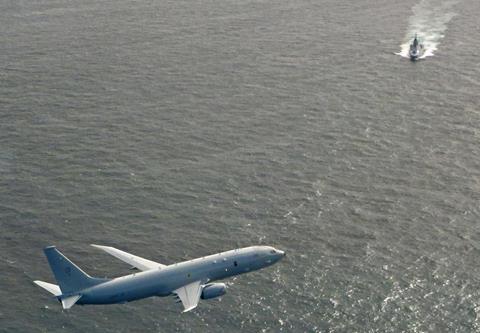 "The remaining aircraft on order will continue to arrive in the UK throughout this year and next, with the ninth and final aircraft due by the end of 2021," DE&S says.