France has ordered a further 21 TALIOS targeting pods from Thales, with the sensors to be carried by the nation's F3- and F4-standard Dassault Rafales.
"With this new order, a total of 67 TALIOS pods will be in service with the French Air and Space Force and the French Navy by 2025," Thales says.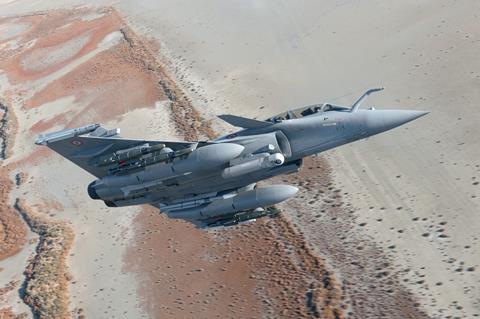 Announced by France's DGA defence procurement agency on 5 May, Thales says its latest contract involves pods with enhanced capabilities, "including a new air-to-air identification mode, a colour sensor and new tactical air reconnaissance modes ordered as part of the Rafale F4 programme".
The latest version also incorporates its 'Vision Permanent' function, "which superimposes real-time video on a 3D map".
"The TALIOS pod will enable Rafale F4-standard aircraft to perform both air reconnaissance and ground/surface-attack missions," Thales says. "The pod provides a wide-area search and target identification capability and can then switch instantly into target acquisition and tracking mode."
"Rafale pilots will be able to make better decisions with even greater speed at every decisive moment of their missions to detect, classify and safely engage a target and assess the results of a ground or surface strike," says Thales executive vice-president, land and air systems Christophe Salomon.
Deliveries under the French defence ministry's prior TALIOS contract commenced in 2019, with the DGA saying that 30 systems have been received so far.
"The new pods will be delivered between 2024 and 2025, straight after fulfilment of the initial order," Thales says.
Thales says its continued development path for the targeting system "will ultimately incorporate artificial intelligence algorithms".