UK engineering services provider 2Excel Aviation and sensor and electronic warfare (EW) specialist Leonardo have extended their long-term strategic partnership, with the pact including joint work on a flying testbed to support the nation's Tempest future combat air system programme.
The five-year extension to the companies' long-term partnering agreement will run until the end of 2026, during which period 2Excel's Boeing 757-based Excalibur test asset will be prepared for use.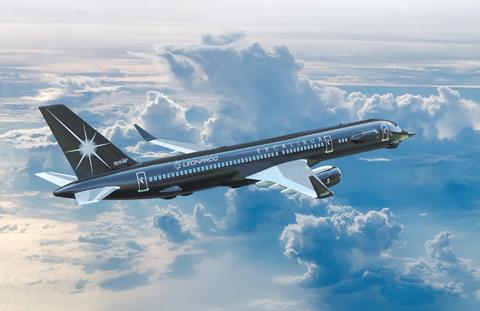 Leonardo has contracted flight trials services since April 2009 from 2Excel, which was founded four years earlier by Chris Norton and Andy Offer – both former Royal Air Force BAE Systems Harrier pilots – who remain as its directors.
"The first aeroplane that we produced as a flying laboratory was a [Piper] PA-31. Since then, we've been working together to develop equipment, prove that it works, reduce the risk and get things on the line that are useful," Norton says.
On its formation, 2Excel's main focus was on its in-house aerobatic display team, The Blades, which performs with four Extra 300s flown by former Red Arrows pilots. It has since grown into a company with around 450 employees, and an annual turnover in excess of £45 million ($59 million) before the pandemic.
Headquartered at Sywell aerodrome in Northamptonshire, the company has operations at Doncaster-Sheffield airport in South Yorkshire and Lasham airfield in Hampshire, along with a VIP aircraft charter business based at Stansted airport in Essex.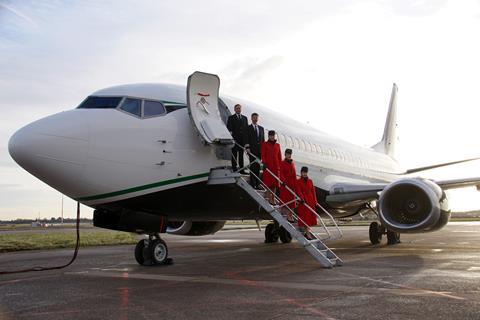 The company's fleet also has grown substantially over the years, to total 28 aircraft. These include nine trials-roled PA-31 Navajos, eight Beechcraft King Air 200s and two 737-300s used for charter operations, two 727s adapted for oil slick response duties, five Extra 300s, one aerobatic Zivko Edge 540, and its currently stored 757-200: an ex-TUI-operated airframe built in 1995.
Examples of 2Excel's most recent work with Leonardo include flying Sage electronic intelligence/electronic support measures sensors and high-accuracy direction finding interferometers: a combination used to geolocate emitters such as ground-based fire control radars. It also designed, manufactured and certified a pod-based King Air fit for its partner's Osprey 50 active electronically scanned array radar.
Leonardo says the latter activity was completed "exceptionally quickly", and that this allowed it "to accelerate the radar's development cycle and demonstrate its in-flight performance to potential customers".
"We have successfully sold equipment for Leonardo time and time again by putting real customers and decision-makers in the plane and going: look, it works, it's real," Norton says.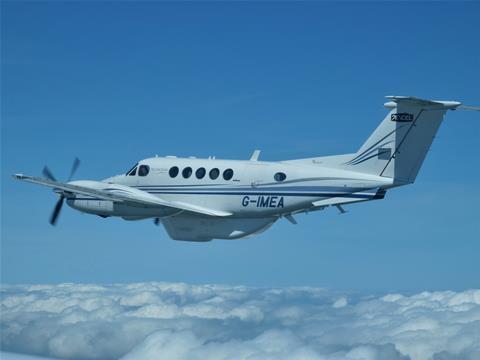 The company also installed Leonardo's PicoSAR payload, plus communications intelligence equipment, non-cooperative sense and avoid technology, the hyperspectral seeker for MBDA's Brimstone air-to-surface missile and a burst-illumination laser simultaneously on a Navajo for testing.
"One platform, all those uses – which is how we get our return on investment," says Norton. Underpinning this is the company's Capability Development unit at Sheffield-Doncaster, which holds design authority approvals on all its aircraft. "Modifying a design is done in half an hour, rather than half a year," he says.
Fiona Clark, Leonardo's head of capability (EW sensors), notes that two-thirds of the company's approximately 2,100 suppliers are small and medium-sized enterprises, like 2Excel. "We rely on our SMEs for the expertise that we can't always grow in-house," she says.
A phase one feasibility study for the 757's Excalibur modification activity has concluded, and a second phase spanning design and build activities has commenced, thanks to contracts from Leonardo and the UK Ministry of Defence.
"Excalibur will provide the real-world environment necessary for the latter stages of development of the complex integrated sensors, non-kinetic effects and communications Leonardo is developing for Tempest," the prime says. Its UK arm is a joint partner with BAE, MBDA UK and Rolls-Royce in the Team Tempest industry grouping.
While firm details of the modification work have not been revealed, Norton notes: "The idea is to build the plane around the kit, rather than squeeze the kit into the plane.
"This is bigger than Team Tempest – it's a flying laboratory," he says. "We are trying to build something that can accept all manner of equipment. There is a real world commitment that we need from international partners, then we will make that happen." Italy and Sweden are involved in the Tempest project, with Japan also having a pact with the UK to explore advanced fighter technologies.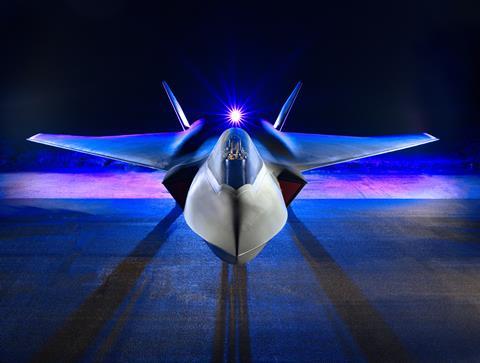 "Equipment has to work first time," says Clark, who notes: "From the moment you take off you are being looked at and can be engaged by threat systems." While much work on radar and advanced sensors can be conducted in laboratories, "You cannot beat flying it on an aircraft," she adds.
"It is exactly the same on Excalibur," says Norton. "Develop, test; develop, test; put it in the sky; test it in the real world. It's absolutely fundamental to the [Tempest] programme that we prove things work before we invest millions or billions of pounds and millions of hours into developing something that isn't what the frontline wants or needs."
Norton says the new five-year demonstration, trials and availability service agreement "Gives us the certainty to be able to cut holes in our precious aeroplanes and say 'it's worth it to cut another hole and build another plane and take another risk'."
FlightGlobal visited 2Excel's Doncaster-Sheffield airport site in early December, where it is preparing to expand its operations into a second hangar.
Within its current hangar, one of two specially-adapted 727s was sitting ready to be deployed anywhere in the world within 4h of receiving a call, under a 10-year contract with Oil Spill Response.
While the capability has yet to be used in a real-life emergency, 2Excel crews every week practice flying at 150ft over the sea at 20kt (37km/h) above stall speed with flaps deployed – the manoeuvre they would use while precisely spraying up to 6,800kg (15,000lb) of dispersant following an environmental disaster.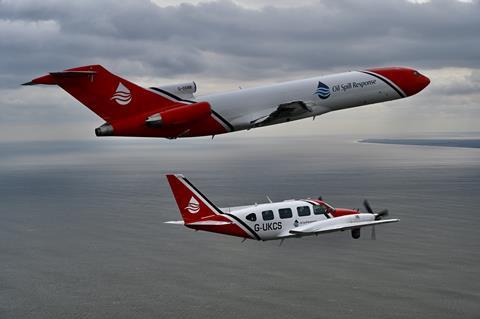 The last two 727s to have been produced, and originally operated by freight carrier FedEx from 1983, the trijets are equipped with 2Excel-designed and -installed onboard tanks for the dispersant load. Also supporting the mission are the last five registered flight-test engineers still employed in the UK.
"Being trusted to be there is absolutely key," says Norton of the service. 2Excel is already eyeing a replacement aircraft opportunity, with the 727s to be retired by 2028. While obtaining spares for the veteran type and support for its Pratt & Whitney JT8D engines is increasingly a challenge, he notes: "We have a contingency plan, and we can get to the end."
Another example of the company's special mission adaptation work saw updates made to two King Air 200s for the UK Maritime and Coastguard Agency (MCA). It delivered an operational capability within just eight months of selection, with the radar- and electro-optical/infrared sensor-equipped fixed-wing search and rescue (SAR) aircraft operated by 2Excel personnel.
The assets perform duties including environmental monitoring and fisheries protection, and monitor surface vessels. They also are used to precisely locate vessels with casualties aboard before a SAR helicopter arrives on scene: a time-saving service which in at least one instance has enabled a mission to be safely completed at the limit of the rotorcraft's operating range.
The MCA originally contracted 1,000 flight hours for the service, but has already used three-times that amount.
Such projects have helped amid the pandemic; the knock-on effects of which hit the company's commercial airliner MRO operation and 'Broadsword' charter division.
Demand at its Lasham large aircraft engineering facilities remained around down 40% in 2021, although this marked a significant recovery from 2020. Employee numbers at the site now stand at around 170, plus 40 contractors, from a pre-Covid level of 288, and there are 24 aircraft on-site.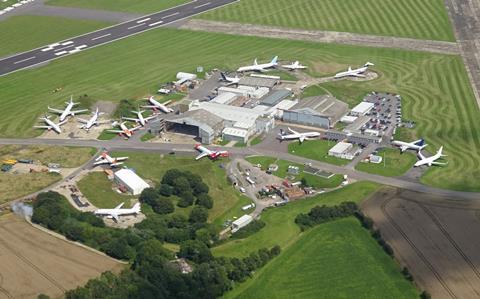 The VIP transport sector was hardest hit as the pandemic swept the globe: "Charter stopped dead for four months", Norton says, but has since enjoyed a recovery.
2Excel plans for its two 737 Classics to be joined by an NG-standard -700 "within the next six months", he adds. Typically used to transport sports teams and music bands and each configured with 62 seats, its current assets are 26 and 32 years old, Cirium fleets data shows.
Describing 2Excel as a "mini-prime", Norton points to the company's ownership structure, under which its staff collectively hold a 51% share. "Everybody is in it together – it is about the long-term benefit of the employees," he says. "We turn concepts into reality really fast, and then use them to deliver services. We do difficult things really well."