GKN Aerospace has been awarded the final instalment of a multi-year contract to develop a performance upgrade for the Saab Gripen C/D's RM12 engine.
Valued at SKr23.6 million ($2.1 million) and placed by Sweden's Defence Materiel Administration (FMV), the latest award will complete a project launched in 2019. The activity improves engine performance and will also lower operating costs, GKN Aerospace says.
"In addition to enhancing key components within the engine, the development work also involves updating the engine software in the aircraft system," says GKN Aerospace. The company is the OEM for the 18,100lb (80.5kN)-thrust derivative of GE Aerospace's F404 turbofan.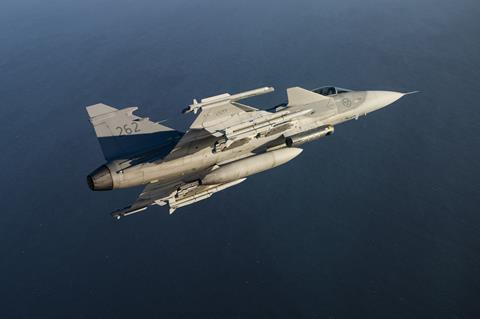 "Upgraded RM12 engine testing will take place at GKN Aerospace's facility in Trollhattan, with flight testing [to be] undertaken by Saab and the FMV," the company says.
"The order means that we at GKN Aerospace continue to strengthen our competence and ability to handle complex, full-engine systems for fighter aircraft for the future," says Stefan Oscarsson, vice-president of government & space for its engines business. The company also produces the GE F414-dervied RM16 for Saab's new-generation Gripen E/F fighter.
The Swedish air force has an active fleet of almost 100 Gripen C/Ds, while export customers the Czech Republic, Hungary, South Africa and Thailand also operate the type.

Craig Hoyle joined Flight International in 2003, and has edited the now monthly title since 2015. He has reported on the UK, European and international military aviation sector for more than 25 years, and produces our annual World Air Forces directory.
View full Profile