Barzan Holdings – the procurement arm of Qatar's defence ministry – used its first attendance at a DSEI show in the UK last month to promote its growing capabilities, and strong willingness to invest in promising technologies from around the globe.
"We are looking to bring technologies to Qatar – by investment or joint venture," Barzan chief executive Abdullah Al-Khater told FlightGlobal at the show.
Established in 2016 and formally launched at Qatar's biennial DIMDEX show in Doha in March 2018, Barzan has already invested in multiple projects – including the UK's Aeralis modular jet trainer – and also begun developing its own domestic capabilities.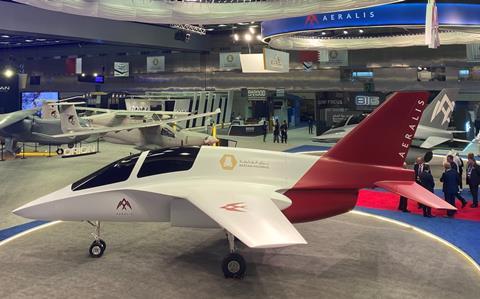 Prior to Barzan's creation, Qatar "depended on just external acquisition programmes", Al-Khater says. So, it "resolved to establish a defence industry and defence capabilities within the State of Qatar".
"We have a vision – to establish a local industry and local companies," Al-Khater says. "We cannot build a huge defence industry just to meet the supply of the [domestic] ministry of defence, because the demand is small. The idea is to look at different ways of bringing those technologies or capabilities to Qatar.
"One of the ways is to invest in existing companies, or to establish joint ventures either inside the State of Qatar or outside. Another is to manage acquisition programmes – they can come to us under the capability development or strategic capabilities division within Barzan."
Such arrangements can include agreeing local support and sustainment services via its Barzan Maintenance Shield company, he notes. It also has joint ventures with companies including Rheinmetall, with which it is exploring the development of equipment including counter-drone systems.
One of its early investment arrangements could deliver strong results, Al-Khater believes.
"We started the discussion with Aeralis back in 2020, when Barzan made an investment, and we are continuing our investment and commitment towards its success," he says.
Describing the company's modular design as a "unique concept", he adds: "we need to qualify pilots, so this aircraft will help the State of Qatar". The nation's recent major investment in combat aircraft capability has seen it add the Boeing F-15QA, Dassault Aviation Rafale and Eurofighter Typhoon to its inventory, along with acquiring BAE Systems Hawk 167 and Leonardo M-346 advanced jet trainers.
Capabilities showcased by Qatari industry at DSEI included small arms ammunition manufacturing by its Barood subsidiary. "This is a huge show that can put Barzan on the map," Al-Khater said of its inaugural attendance at the event in London, which ran from 12-15 September.
Barzan is now preparing to highlight its growing capabilities at the next DIMDEX show, which will be staged in Doha from 4-6 March 2024.

Craig Hoyle joined Flight International in 2003, and has edited the now monthly title since 2015. He has reported on the UK, European and international military aviation sector for more than 25 years, and produces our annual World Air Forces directory.
View full Profile