Israel Aerospace Industries (IA) has secured a sale for its Scorpius-SP airborne jammer pod to an unspecified air force in Asia.
The transaction is a "multi-million dollar deal", says IAI.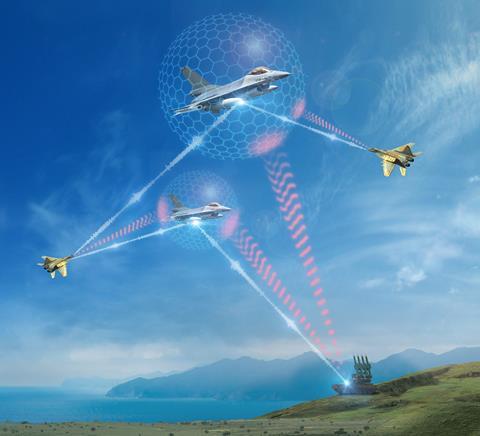 IAI states that the Scorpius-SP uses active electronically scanned array (AESA) technology with multi-beam operation. It can simultaneously detect and suppress multiple threats from different directions.
The company first introduced the system in October 2021.
"AESA multi-beam technology provides exceptionally high sensitivity, allowing the system to detect advanced threats including Low Probability of Intercept Radar, and very high jamming power for effective suppression of the targets," says IAI.
"These capabilities represent a breakthrough in electronic protection and attack, creating the most effective airborne self-protection system available today."
Given that Scorpius-SP is based on the EL-8222 pod (its designation is EL-8222SB), it can be carried on the outboard wing station of a fighter aircraft.
Though IAI does not name the customer, its promotional images of Scorpius-SP show the system mounted on the Lockheed Martin F-16.
Asian countries that have undertaken substantial F-16 fleet upgrades in recent years include Singapore, South Korea, and Taiwan.
"We are proud to be pioneers in AESA EW, which heralds the next generation in electronic warfare," says Adi Dulberg, general manager of the IAI/Elta Intelligence, Comms, and EW division.
"IAI-Elta's AESA jammer pods will provide our customer with the best protection available today for their aircraft and crews. We will continue to develop and promote innovative solutions in the Scorpius family of AESA EW systems."