Leonardo UK is staging a competition to support its sensor and electronic warfare role in the tri-nation Global Combat Air Programme (GCAP) via innovations including machine learning (ML).
The Combat Air artificial intelligence (AI) challenge involves inviting "small and medium-sized enterprises (SMEs), start-ups, and academia from around the country" to submit entries by 28 April.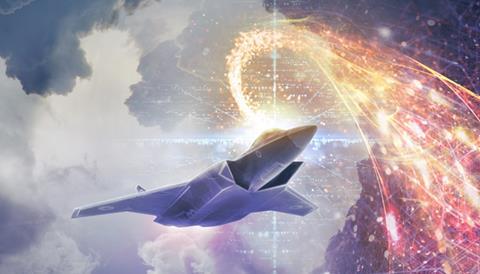 Two concurrent paths are being managed during the challenge. "Stream 1 focuses on deep reinforcement learning, a category of machine learning where intelligent machines can learn from their actions," the company says.
"Stream 2 will look at how machine learning can support deep integrated sensor fusion: the heart of GCAP's next-generation approach to situational awareness," it adds.
The company says it is "looking to assess the potential deployment of disruptive technologies, such as AI", within the GCAP effort, which involves Italy, Japan and the UK. The project aims to develop a "sixth-generation" Tempest fighter for operational use from 2035.
"We have had a really strong response so far from academia and the SMEs," Jonathan Smith, Leonardo UK's vice-president capability, told FlightGlobal on 24 April. He attributes the high level of interest to "excitement around Tempest and AI/ML".
Leonardo UK will assess the responses before announcing a number of submissions to advance into roughly six-month pilot projects which are due to conclude by year-end.
"It is hoped that some projects could then develop into longer-term collaborations within GCAP," the company says. Smith notes that this could ultimately include moving technology from the synthetic environment to forming part of airborne trials aboard a flying Boeing 757 testbed named Excalibur, which is being prepared for Leonardo UK by 2Excel Aviation.
The Tempest fighter at the heart of the GCAP capability will feature ISANKE (Integrated Sensing and Non-Kinetic Effects) and ICS (Integrated Communications Systems) equipment – being developed by Leonardo UK and its industrial partners in Italy and Japan – to "provide the aircrew with information advantage and advanced self-protection capabilities".
Smith says the objective of the current challenge is to assess whether AI and ML techniques to further the operational advantage provided by ISANKE/ICS, to enable air forces to field what he describes as a "simultaneous-role aeroplane".
The company also describes its future sensor and communications architecture as able to provide "an adaptive mesh network across formations of crewed and uncrewed aircraft".
Being staged in collaboration with the UK Ministry of Defence's Defence Science and Technology Laboratory, the Combat Air AI challenge has a budget of £250,000 ($312,000).

Craig Hoyle joined Flight International in 2003, and has edited the now monthly title since 2015. He has reported on the UK, European and international military aviation sector for more than 25 years, and produces our annual World Air Forces directory.
View full Profile