Saab has secured a Military Restricted Type Certificate (MRTC) for its Gripen E from the Swedish and Brazilian authorities, clearing the way for the type to enter operational use.
Announcing the step on 30 November, the airframer says the approval "attests that the aircraft has met all the airworthiness and flight safety requirements set by the Swedish and Brazilian military authorities".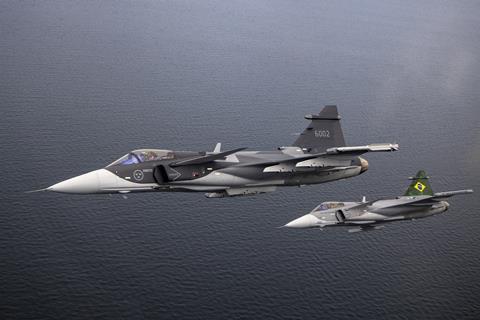 Secured earlier in November, the joint MRTC from the Swedish Military Aviation Safety Inspectorate and Brazil's Industrial Fostering and Coordination Institute "reflects the synergy obtained through the technical cooperation between the two authorities", it says.
"For the customers, this is a milestone of the greatest importance, being an essential step for the Gripen to start operations," Saab says. It adds that its programme focus is now on "the development and testing of new functionalities" for the single-engined type.
Saab has current orders for 96 new-generation Gripens: 60 E-model examples for the Swedish air force, plus 28 single-seaters and eight F-model variants for Brazil. The services have so far received a handful of the new type to support their test and evaluation activities.
The Brazilian air force is expected to introduce its first locally-designated F-39Es to use before the end of 2022, while Sweden plans to declare the type operationally ready in January 2025.

Craig Hoyle joined Flight International in 2003, and has edited the now monthly title since 2015. He has reported on the UK, European and international military aviation sector for more than 25 years, and produces our annual World Air Forces directory.
View full Profile